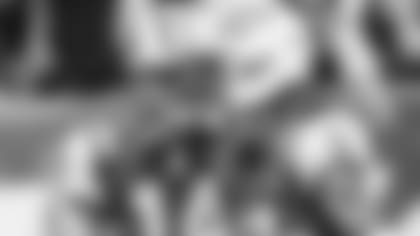 Sam Darnold took his shots last week, but he didn't get the results. But the Jets rookie quarterback came away from defeat in Jacksonville feeling big things were on the horizon. And Darnold delivered the goods Sunday, connecting on a pair of long scoring passes to Robby Anderson in the second quarter and adding a fourth-quarter nail to Terrelle Pryor in the Green & White's 34-16 win over the Broncos at MetLife Stadium.
Darnold completed only five passes in the opening half, but he took efficiency to a new level in the process. Those five completions went for 145 yards and he did most of the damage by going to Anderson three times for 123 yards.
"The fact that he missed them and we're taking them, that always helps," said head coach Todd Bowles of the vertical game. "Robby is a great deep ball guy and Sam is developing a lot of trust in him in that way and it's good to see it happen."
After overthrowing Anderson on a go route in the fourth quarter of the Jets' 31-12 loss to the Jaguars, Darnold was on the money early in the second stanza. With the speedster flying by cornerback Bradley Roby and no safety help in sight, Darnold laid it out for Anderson on a third-and-9. The result was a 76-yard touchdown, giving the Green & White a lead they would not relinquish.
"I talked to Sam after the play and he was like, 'I thought I overthrew him.' But it was basically a perfect pass, so it worked out great," said RB Isaiah Crowell who finished with a franchise record single-game mark of 219 rush yards.
Then with just 67 seconds remaining in the half, Darnold probably had the most impressive pass of his five-game pro career. He forced a freeze in the defensive backfield by moving his eyes right, but came back with a gorgeous rip to Anderson for a 35-yard score.
"I was just looking at the safety to see what he was going to do and knew Robby was going to beat him deep," said Darnold. "I just put it out there for him."
With a punishing run game that amassed 323 yards, the Jets did not put everything on their 21-year-old passer. They controlled the line of scrimmage and had Darnold attempt just 22 passes. He only completed 10 and he had multiple attempts batted down at the line of scrimmage including one that resulted in an interception from DE Derek Wolfe.
"It's amazing to see the way our runners ran," Darnold said. "Our offensive line played outstanding today. I can't say enough about their efforts and our fans. Our fans came to watch us play today and to be able to play in front of them — they brought it as well. It was really a team effort and I couldn't be any more proud of the guys in the locker room. And that offensive line, I can't say enough about them."
Darnold finished in triumphant fashion, ending festivities with a 20-yard scoring toss to Pryor late in the fourth. He put it only where the 6'4" Pryor could get it and the former quarterback helped Darnold by corralling the ball with his left hand and somehow bringing it in to his body. On an afternoon the Jets gave Darnold a lot of help, No. 14 was out there blocking on Bilal Powell's 38-yard scamper that pushed the back over 100 yards (he finished with 99).
"I was kind of winded after that play, but it was awesome to be able to get in front of him and lead block," said Darnold, the former high school linebacker. "I don't know if I actually blocked him, but I did my part. I got in the way."
Sam Darnold won his second NFL game Sunday, making timely contributions as the Green & White dominated playing complementary football. It's a recipe for continued success as the red-headed rifleman continues his professional education.
"It's awesome to be able to get a win," he said. "Any win, you'll take it. Every week in the league is a different challenge and it's a hard challenge, but we're capable of winning a lot of games."