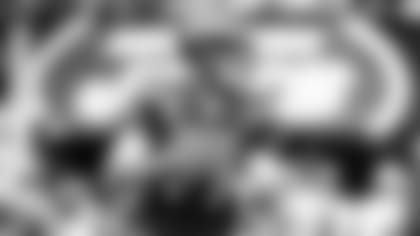 Amidst a quarterback shuffle for the Jets, starting signal-caller Sam Darnold has his eyes on an October return date.
"Hopefully, the goal is to be back against Philly in Week 5," Darnold said on ESPN's The Michael Kay Show Tuesday afternoon. "That's the goal for me and that's what the doctors are estimating. If I get back for Philly and we go on a little run, we have our work cut out for us, nothing is easy in the NFL, nothing is given to us. But if we go on a little run, anything is possible. We're excited for it."
After being diagnosed with mono last week, the second-year signal-caller returned to the Atlantic Health Jets Training Center Monday for the first time, but has not received the green light to begin working out.
"I'm feeling a lot better. There was a really bad four-day stretch where I also had strep throat during the mono, so it was a bad few days," said Darnold, who said he felt 85% against Buffalo in Week 1. "But I think, for me, the worst thing about this sickness is now that I'm feeling better, I still can't do anything. There's nothing I can do about it. That's the worst part about this. And the timing couldn't be worse either, right at the beginning of the season.
"Right now, for me, it is what it is. Now that I'm back in the building and allowed to be back in there, I'm going to do what I can to encourage the guys and go over the game plan and help as much as I can."
After the diagnosis, head coach Adam Gase said his quarterback was concerned about weight loss. But the USC product hassn't missed a meal, attempting to maintain his playing weight of 225 pounds.
"I only lost two pounds, which is good for me," he said. "I think I'm almost back to normal. Just having my appetite back is the best thing for me. I'm going to find little ways to continue to build muscle and keep the weight on. It's hard with mono to keep the weight on, but I'm going to do my best."
Darnold breathes football, so watching Monday night's game with his parents at his apartment, like a fan, wasn't easy for him. In fact, the 22-year-old, who typically embodies California cool, had "a bit of an episode" when backup Trevor Siemian went down with torn ankle ligaments following a late hit from Browns defender Myles Garrett. Darnold went into another room, punched his pillow as hard as he could and screamed into it.
"It was really frustrating just sitting back, knowing I couldn't do anything about it. That's the hardest thing," said Darnold, who also expressed his confidence in Luke Falk. "You try to understand things, but not being there the entire week, I couldn't be completely frustrated because I didn't fully understand the game plan. It was definitely frustrating to watch from home because of the simple fact I couldn't do anything about it."
As Darnold hopes for a quick return, there's not a lot he can do since he's waiting for his spleen to return to a normal size, which means he'll again be a spectator when Luke Falk and the Green & White take on the Patriots in Week 3.
"It was a little bit different for me watching the New York Jets from a television. Hopefully I won't have to do that too much more in my career, but it is what it is," he said and later added, "It sucks to miss time, especially sitting on the freaking couch, watching my team play without me. It's a bummer. It's not something you ever want to go through as an athlete, but I'm not complaining at all. I'm just doing what I need to do to get better."