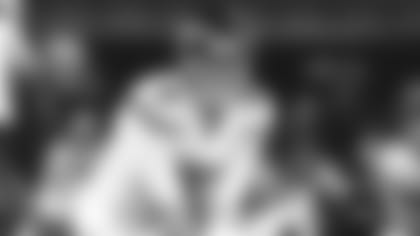 Mike White will make this third consecutive start when the New York Jets (2-6) play host to the Buffalo Bills (5-3) on Sunday. While White and rookie QB Zach Wilson, who remains out with a PCL sprain, resume practicing this week, only White will suit up in Week 10.
Head coach Robert Saleh said on Wednesday: "We had a feeling on Monday with Zach's knee that he's not fully ready to go and Mike obviously got all his strength back. He feels good, no residual effects from Thursday so we're going with Mike."
White, who sustained a nerve contusion in his right forearm in the first quarter of the Jets' loss to the Colts on Nov. 4, started in Indianapolis after guiding the Green & White to a 34-31 triumph over the Cincinnati Bengals on Oct. 31.
Making history against the Bengals, White became the first quarterback with 300+ passing yards and a 75%+ completion percentage in his first career start. Connecting with 10 different targets, White also became the first Jets QB to reach the 400-yard threshold in a game since Vinny Testaverde in 2000.
"His ability to stay calm, cool and collected within the moment and take one play at a time is pretty cool for a young guy getting his first and second start," Saleh said.
White took the ball for the Jets after Wilson sustained a knee injury in a loss to the Patriots on Oct. 24. In relief against the Pats, White moved the offense and hit on 62.5% percent of his throws with 1 TD and 2 INTs. After the record-setting performance against the Bengals, White was well on his way to another big performance against the Colts. In less than a full quarter, White was 7-of-11 passing for 95 yards, but he was forced to the sideline when his hand hit Colts DL DeForest Buckner on a follow-through as he connected with Elijah Moore on a 19-yard scoring pass.
"When someone gets an opportunity, whether or not you take advantage of it is on your shoulders," Saleh said. "So kudos to Mike in what he has been able to do over the past couple of weeks. Not it's just a matter of creating consistency. You've shown you belong. Now can you take that next step?"
Saleh said earlier this week that it would be "irresponsible" for the Jets to play Wilson if he's not fully healthy. In six games, Wilson, the No. 2 overall selection in the NFL Draft, has hit on 57.5% of his passes for 1,168 yards with 4 TDs and 9 INTs.
"We have the utmost confident in Zach when he gets ready to play and when he gets back on the football field that he's going to do a phenomenal job," Saleh said of the BYU product. "His talent is undeniable, so there is a great amount of growth that can happen whether he's playing or not."
In his three appearances, White, a fifth-round pick of the Cowboys in 2018, has completed 72.7% of his passes for 702 yards with 5 TDs and 4 INTs.
"Mike has done a phenomenal job in presenting the ability where you're getting good football out of the quarterback," Saleh said.
Despite Josh Johnson throwing for 315 yards and 3 TDs against the Colts, Joe Flacco, acquired from Baltimore on Oct. 26, will back up White against Buffalo.
"He's been elevated from practice squad twice already, we're dealing with a whole ton of injuries," Saleh said of Johnson. "So being able to get him to the 53, there is a numbers game. With Joe, it's basically giving him an [opportunity], too, he's ready to go. He's been studying his butt off the past couple of weeks."
Taking things day-to-day at quarterback, Saleh acknowledged the opportunity at hand for White. He'll have a stern test this weekend against a Bills defense that ranks No. 1 in multiple categories.
"I think it's going to happen organically," Saleh said. "If Mike does phenomenal like we think he's going to do, that's not weird, it's awesome to me in the sense the quarterback is a precious commodity in this league and we feel like we have four really good ones. I think it will all take care of itself, just have to let it play out."
Jetcetera
In addition to QB Zach Wilson (knee), RB Tevin Coleman (hamstring), DE Shaq Lawson (hamstring), WR Corey Davis (hip), LG Alijah Vera-Tucker(sprained toe) were all limited in practice on Wednesday. Saleh said that Wilson will participate in individual drills and run the show team.
"It is a 2-to-4 week injury obviously," said the Jets' first-year head coach. "He's trending in the right direction and we'll see how he practices this week which was always the goal and see how he feels coming out of this week."