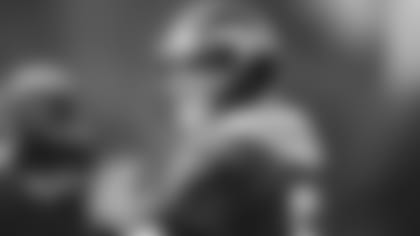 For Jets fans who haven't heard a Mike White interview yet, a lot of what you need to know about the third-year QB who's set to make his first NFL start Sunday for the Jets against the Bengals is contained in this quote from his Thursday post-practice news conference. What about that pressure on you, Mike?
"I think you can't think about that, not only at quarterback but any position," he said. "Once you add more pressure to it, you mentally lock up and start doing things that aren't in your realm. So I think personally, I'm trying not to think anything of that nature, just go out there, play my game, have fun with my guys. I'm starting an NFL game, so that's pretty freakin' cool."
An attitude like that helped White enter last week's game at New England in the second quarter, after Zach Wilson went out with his knee injury, and throw the ball around Gillette Stadium as if he had a full week of practice with the ones rather than minimal work in his role as Wilson's backup. And it helps him handle the prospect of whether he plays well or not, helps beat Cincinnati or not, he may well pass the baton not back to Wilson but on to Joe Flacco, who returns to the Jets after this week's trade with Philadelphia.
"As a backup, whenever you get the chance to start, that's the chance to prove yourself," he said with a smile. "I don't think Joe coming in changes anything. Joe was here last year. I have a great relationship with him. I'm excited to see him again and rekindle some stuff and talk some crap to him about ping-pong and things of that nature.
"But no, I don't think Joe coming in changes anything. I've told myself from the beginning of the week I just want to go out there and do my job and help this team win."
White's approach comes from being a cross-training career-long athlete. He was a highly regarded pitcher who was getting calls from major league scouts. But as he explained, while his high school and college friends stayed on the diamond, he gravitated to the gridiron.
He had excellent passing numbers while splitting his college career at both the University of South Florida and Western Kentucky. Add his 6-5 stature to his college and NFL Combine showings and it led to the 2018 draft, when he was selected in the fifth round by Dallas.
From there White has lived the up-and-down nature of an NFL backup signal-caller — waived by the Cowboys in 2019, spending that season on the Jets' practice squad, then ping-ponging (couldn't resist) from the P-squad to the active roster to the waiver wire to the P-squad.
Through it all, the Jets QB has accentuated the positives and eliminated the negatives of his situation. He learned pro concepts at WKU under coach Jeff Brohm, who took the long way around the NFL before White did, spending time with six NFL teams and playing for the 49ers. And White has taken all the info he can from the time he spent practicing and talking last year with Flacco and this year with Josh Johnson, who figures to be his backup at MetLife on Sunday.
"I was telling Josh the other day that he might be in the NFL longer than I've played football," White said. "That's pretty funny."
But while White appreciates a funny story and a witty quote, he's also all in on being a great NFL backup and, when called upon, as good a starter as he can be.
"Any backup's career is always going to be ups and downs, changing teams, offenses, things of that nature," he said. "Personally, I'm proud of how I handled it, persevered, worked my tail off, kept getting better and put myself into this situation."
Now all White's got to do is to confidently lead the charge to beat the roaring Bengals and get the Jets climbing out of their early hole before ceding the job to Flacco or Johnson or, ultimately, Wilson.
"I think they're a very talented team from top to bottom," he said of Cincinnati. "They make you earn it on defense, they do what they do well, and they've been in this system for a couple of years. They play well together and they play hard.
"So it'll be a good test for us as a team. If we go out there and execute, and execute the gameplan, I think we'll be in it."
See the Top Practice Images from Thursday of Bengals Week at 1 Jets Drive