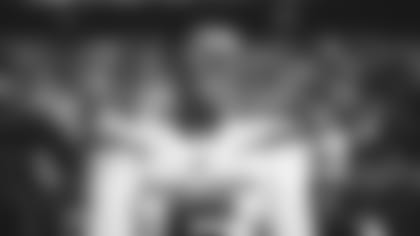 Jets QB Mike White pronounced himself fit, eager and ready to face the Detroit Lions at MetLife Stadium on Sunday, only days after taking a pair of ferocious hits to the midsection that left him with bruised ribs.
Asked if he had any doubt about starting, White said: "Not at all. I'm preparing as such until something changes."
In the loss to the Bills, first Ed Oliver sent him to the sideline for a couple of plays, then later a point-blank helmet in the gut from Matt Milano hurt the fourth-year man out of Western Kentucky.
"I'm dealing with general soreness," he said after two days of limited practice. "It will happen getting hit this late in the season. When it's colder, it feels that they [the hits] hurt a little more, sting a little more."
While the Jets (7-6) are back home after two difficult losses on the road (at Minnesota and at Buffalo last Sunday), the Lions (6-7) come to North Jersey after handily defeating the Vikings in an NFC North game for their fifth victory in the past six games. The Lions started the season 1-6.
Last week, White, who was 27 of 44 for 268 yards, was under constant pressure from a Bills' defense that totaled 4 sacks and 1 strip sack. This week he and the offensive line will have to contend with Detroit rookie DE Aidan Hutchinson, who has 7 sacks so far this season.
"If you start worrying about it too much, then your eyes stop from going downfield and you can run into problems," White said. "They [the Bills] just got me on two clean hits, really that's what it is. Hopefully it's not a recurring thing."
After last week's loss, the Jets fell out of the seventh and final AFC playoff berth. But this week the words "destiny in our own hands" have come to life, whether it's from the mouth of head coach Robert Saleh or from White. The Jets know if they can win out (Detroit on Sunday, Jacksonville on Thursday night Dec. 22, at Seattle on Jan. 1, and closing out the season with a flex game at Miami) they have an excellent chance of playing meaningful football -- in mid-January.
"Every game in the NFL is a must-win, especially this time of year," White said. "We said last year when we were going through the issues that we were, we made up a scenario as a team. We said, alright, listen, let's get ready because Saleh did say eventually we'll be playing meaningful games in December. So, let's get in that mindset now.
"So, we did create that and it's funny how this year we are in that exact scenario. So it's nice to be able to control our own destiny, know if we go out and take care of business and if we win those four games, the chips should fall into place. It's awesome, that's why you play sports in general. If you're a competitor, you want it in your hands —) you don't want to leave it up to someone else. You don't want to be 'we need this team to lose, but this team to win' and all that. But you want to know, we want to go out and control our own destiny. Any quarterback will tell you they want it in their hands."