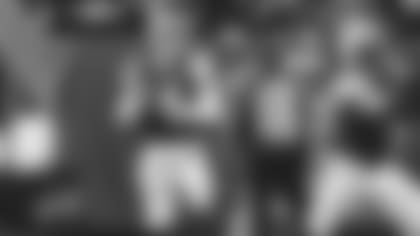 Uncle Josh stood at his locker and gushed about the rookie quarterback as the latter showered. The 39-year-old Josh McCown, who doubles as a mentor and confidant for Sam Darnold, believes the first-year pro is starting to win his fight.
"His play from the pocket has been impressive. The outside the pocket skills and the playmaking skills – that's why you drafted him top five and you saw that on tape," said McCown after Darnold completed 24-of-38 for 253 yards and two touchdowns during the Jets' 29-22 loss to the Texans Saturday. "But it was, could he win from inside the pocket in his first year? That's the fight for all these young guys and these last two weeks he's really done that at a high level. That's why you see the other stuff now, the stuff we've been waiting to see because he's playing faster."
Darnold, who used his legs on multiple occasions against the Texans to create space and also churned out 35 yards on six carries, benefited from his month away from live game action. Instead of sulking due to a strained right foot, the No. 3 overall selection in last April's draft observed McCown and got to see how the veteran attacked practice and game situations.
"I know for me as a young guy, that was beneficial to watch somebody else do that and watch some veterans work. But it's a credit to him and the coaches," McCown said. "He just didn't go, 'I've got a bum leg and I'm going to worry about getting healthy. He was in it mentally and I think it's paying dividends now. I think he is doing things we all thought he could do, it's just been a matter of time."
Six days after becoming the youngest quarterback in NFL history to lead a game-winning drive, Darnold connected on passes to nine different targets and the Jets finished 9-of-17 (53%) on third down. He was outstanding in defeat, earning the praise of a number of Texans, including defensive end J.J. Watt and head coach Bill O'Brien.
"I just try to spread it around as much as possible. That's not to keep the guys happy or engaged or anything like that, it's just kind of how the game went and sometimes that's how the game goes," Darnold said of his ball distribution. "And at the same time I thought, again, converting third downs, it starts with the O-line and their play today was outstanding. But again, it still sucks to lose a game, but I think our offense is starting to find a little bit of a rhythm."
Injury Updates
Both RT Brandon Shell (knee) and WR Rishard Matthews (hamstring) are scheduled to receive MRIs. Shell, a third-year pro who started all 14 games this season, was replaced in the lineup by Brent Qvale after being carted off the field. Defensive back Darryl Roberts, who has lined up at safety ever since Marcus Maye went to injured reserve, didn't finish due to a sprained toe. Rontez Miles took his spot alongside Jamal Adams in the defensive backfield.
Jetcetera
The Jets had victory in their grasp Saturday, but head coach Todd Bowles used a Bill Parcells mantra to describe the state of his club through 14 games. "Our record is what it is. We are a 4-10 football team," he told reporters during a Sunday morning conference call. "We compete our butts off, but no moral victories (for) playing hard. We've got to win ball games."… Charged with nine penalties against the Texans, Bowles was asked a number of questions about a Morris Claiborne holding infraction that kept Houston's game-deciding drive alive. Claiborne was engaged in some hand fighting with DeAndre Hopkins and Deshaun Watson sailed a third-down pass out of bounds, but a late flag gave Watson and company another chance. "I thought the official threw the flag so late. You can make a case on almost every play when two guys are fighting," Bowles said. "DeAndre is a big, strong guy, but the ball was not catchable or anything else. With a holding call it doesn't matter whether the ball is catchable or not, and that's the call they made." Since the Texans move the 6'1", 215-pound wideout all over the field, the Jets elected not to shadow Hopkins with Trumaine Johnson. The star receiver collected 10 receptions for 170 yards against the Green & White with two scores. Draped by Claiborne, Hopkins somehow came down with the 14-yarder that gave the visitors a lead they would not relinquish. "You have to play four quarters and finish the game. Again, I take my hat off to Hopkins. He made a heck of a catch. He made a heck of a play," Bowles said … The Jets had all three of their quarterbacks active in Week 15 with Davis Webb serving as the team's No. 3. "Davis had a good week of practice, and with all the guys being down, we didn't have too many guys to dress. We rewarded him for just practicing well and show him that he's doing a good job."
Images from the Week 15 Matchup at MetLife Stadium