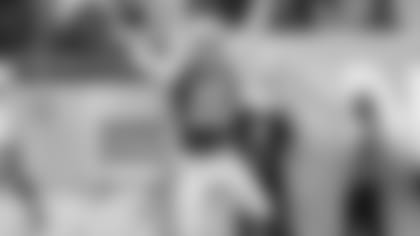 Making his first start of the 2018 season, veteran quarterback Josh McCown hoped to give a struggling offense a lift. But McCown couldn't help the unit shake out of its cold spell and the Jets were thoroughly outplayed by the Bills in a 41-10 loss at MetLife Stadium.
McCown got the rock Sunday with rookie quarterback Sam Darnold being inactive for the first time in his career. Even before Darnold was ruled out with a strained foot, head coach Todd Bowles said he was "very concerned" about the offense's production. The Green & White had averaged just 11 points and 251 yards in Weeks 7-9. McCown didn't find it any easier with the Jets totaling just 10 points and 199 yards against a strong Buffalo defense.
"It's very hard. Just not how you expect to play. We had a really good upbeat week of work and we thought we were very prepared coming into this game. To come out here and perform that way is unacceptable," said McCown who finished 17-of-34 for 135 yards with two interceptions. "We have to be better than that and every man has to look at himself and ask if he can do better. That'll start with me and how I'll approach it and just look at the things I can do to help us play better. We just didn't do that today."
McCown was sacked twice and intercepted once in a forgettable first half that saw the Bills race out to a 31-3 advantage. The yardage totals following to the first and second quarters went in favor of the visitors by margins of 186 to 1 and 313 to 68 respectively. The Green & White didn't get a first down until midway through the second quarter when running back Isaiah Crowell picked up 18 yards on a screen from McCown to convert a second-and-17.
"They had a good scheme. They play together," McCown said of the Bills. "More than anything, they play with a high effort. We have to look at it and look back and see the couple times that got me. A quarterback touches the ball every snap and I hold myself to a high standard, so whenever we got out there and don't win — you have to look at it very critically and ask yourself what you can do better."
It was 24-0 before the Jets crossed midfield for the first time, but a holding infraction on tight end Jordan Leggett (there were three offenders on Eli McGuire's 18-yard run) moved the Jets into a second-and-long. McCown attempted to get it right back, but defensive end Jerry Hughes brought the heat and forced an errant jump ball intended for running back Trenton Cannon. The result was an interception from linebacker Matt Milano and only Jason Myers' 55-yard field goal removed the zero off the scoreboard at half.
"You're not worried about playing from behind as much as executing plays," McCown said. "The execution was key today and we did not do that."
McCown led a touchdown drive in the third quarter culminating on Crowell's 5-yard touchdown run. But the little hope the Green & White had ended as the Bills immediately struck back with a scoring possession of their own. McCown had salt rubbed into an open wound in the fourth when he eyed Jermaine Kearse and found Bills safety Micah Hyde instead.
"We just have to find a way," said McCown after the offense went 1-of-12 on third down. "Each man's got to find a way to take what we do during the week to Sunday. And like I said, it starts with each guy. I also have to look at anything and everything I can do to do better to help us with that."