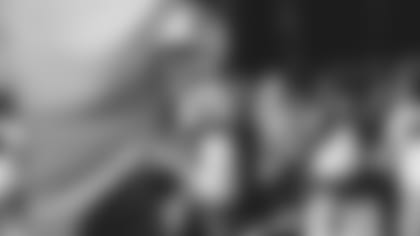 After the Jets' losing streak extended to five games, a bloodied but not beaten Josh McCown talked about his team's fight Sunday during a 27-13 loss to the Patriots at MetLife Stadium
"Every man competed and obviously we didn't play as clean as we would like," said McCown, who had patches of blood on his uniform after his thumb was struck by a helmet. "But up until the last tick on the clock, we competed hard. I think that was much better than last (game)."
Entering Week 12, the Jets had averaged 11 points and 238 yards while converting on just 8-of-52 on third down during what had been a four-game slide. McCown led an offensive unit that totaled 333 yards and converted 43% (6-of-14) on third down, but points were again hard to come by against their divisional nemesis.
With rookie quarterback Sam Darnold out for a second consecutive contest with a strained right foot, McCown helped the offense snap out of a scoreless funk in the first quarter. His 16-yard scoring pass to veteran Jermaine Kearse were the Green & White's first points in the opening period since Week 7. Facing a third-and-3 from the New England 16, McCown received good protection and patiently scanned the field, working his eyes from right to left and resetting his feet before firing a strike to Kearse.
"The touchdown to Kearse, bought a little extra time and got him in kind of the third window of that route," he said of the toss that gave the home club a 7-0 advantage. "He did a good job of staying alive and fighting his way into the end zone."
In the second quarter, McCown appeared poised to put the Jets back on top. Trailing 10-7, he connected with Quincy Enunwa for a 41-yard gain to quickly move the ball into plus-territory. And after the Green & White's first 40-yard completion since Week 5 vs. the Broncos, McCown wanted 41 again. Speedster Robby Anderson had a step on cornerback Stephon Gilmore, but McCown wasn't able to get enough mustard on a long heave before getting crunched by a pair of defenders. Instead of a 14-10 lead, the Jets were turned away on Gilmore's interception.
"They gave us a quarters coverage (Cover 4) and we wanted to try to get a big one down there to Robby," McCown said of the turnover. "I had some pressure up the middle and I didn't get as much on it as I would have liked and really to have a chance to kind of to see it a little better. But there are times when you just have to trust what you see in the coverage and to try to get one down there and let Robby go up and make a play on it. Just didn't get it done and that one was on me."
McCown's 16-yard pass to Kearse in the final seconds of the second stanza set up Jason Myers' 55-yard boot that evened things at 10. The 39-year-old's 179 yards through the air were a first half high for the Jets this season as he completed 15 of 22.
Unfortunately for the Jets, McCown only had one full possession in the third quarter. He helped set up another Myers field goal, sacrificing his body to extend every inch for a 10-yard gain on a third-and-10. Soaking up the moment, McCown signaled first down to a charged up home crowd. But the Patriots took control down the stretch with 14 unanswered points.
Finishing 26-of-45 for 276 yards, McCown completed balls to eight different targets. Rookie tight end Chris Herndon led the way with a career-high seven catches, Kearse had six grabs and Quincy Enunwa's 73 receiving yards paced the unit. And yet it was another frustrating day at the office that ended with McCown, desperately trying to mount a late rally, throwing incomplete to Kearse on a fourth-and-goal from the 2.
"It sucks. It's obviously not ideal," McCown said. "I think individually it tests who you are and what you're about and your ability to get back up and come into work and work hard and be a professional. Those things are tested in these times."a