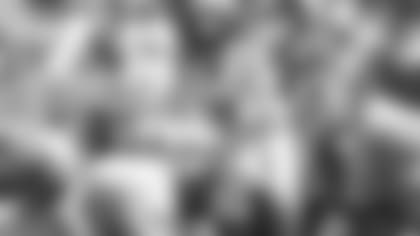 Jets QB Joe Flacco on Monday was nominated a nominee for the FedEx Air NFL Player of the Week.
Flacco earned notice for his 307 yards and 4 TD pass performance in the Green & White's 31-30 comeback win over the Browns Sunday in Cleveland. Flacco completed 26-of-44 pass attempts (59.1%) and earned a 110.7 passer rating.
Flacco joined Kansas City QB Patrick Mahomes – the Week 1 winner – as the only players with 300+ yards, 4 touchdowns and 0 interceptions this season, and became the second Jets QB since 1970 (Ken O'Brien, 1986) to amass those statistics.
In the final two minutes, Flacco threw for a career-best 123 yards and two scores as the Jets rallied back from 13 points down in the final 1:55 of regulation. Since 2010, five quarterbacks have thrown two touchdown passes in the final two minutes of the fourth quarter.
Flacco joined Miami QB Tua Tagovailoa – who threw for 469 yards and 6 touchdowns in a win against Baltimore – and Detroit QB Jared Goff – who posted 256 yards and 4 touchdown passes in a victory versus Washington – as nominees.
Fans can vote at NFL.com/FedEx, on Twitter @NFL via the published poll and on the NFL Mobile App. Voting is open until Wednesday at 3 p.m. Eastern.
After the winners are announced, FedEx will make a $2,000 donation in each of their names to Historically Black Colleges and Universities. The money will go toward a needs-based scholarships given to deserving HBCU students.