Despite missing all of spring ball, Jets QB Ryan Fitzpatrick had a solid training camp and has played well in limited preseason duty. Fitzpatrick, who will lead the first-team offense Saturday against the Giants for their final extended action of the summer, has completed seven of his 13 passes thus far in two contests.
"He's doing good, he really is. He's in sync with everybody so far," Patullo said of Fitzpatrick. "Him, Brandon, Eric, Nick and the rest of the guys are communicating well. His communication has been great with me and Coach Gailey. He's doing really well."
Throughout camp, Fitz displayed a live arm and his body felt no worse for the wear.
"I figured he'd come in and be where he was, which knowing him being a super competitor, he's going to want to take every play and do his best," Patullo said. "I was pretty happy with him."
The Green & White have gotten a long look at Bryce Petty and the second-year signal caller ranks third amongst NFL QBs in terms of pass yards with 335. He has thrown for two touchdowns against no interceptions and has had six completions cover 20 yards.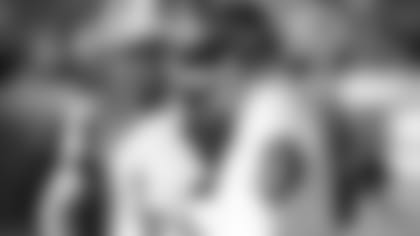 "His questions are better, what he sees in the film room is better and you can tell it's translating to the field a little bit cleaner," Patullo said of Petty. "He knows there's still stuff for him to work on and that's where it's good."
At some point in the second half Saturday night, Geno Smith will relieve Ryan Fitzpatrick and take over the Jets' offensive controls.
"He sees the picture cleaner. He's been doing this longer now so the more you do it, the more you understand and the more you see," Patullo said of Smith. "It's not new, it's defensive looks. And they disguise them, they're good at what they do. He understands and does a good job of asking, 'Is that what that was? What could I have done here or done there?'"
Rookie Christian Hackenberg, a second-round pick from Penn State, is doing everything he can to absorb a new offense. While Hackenberg hasn't seen game action yet, Patullo says the 6'4", 228-pounder continues to get valuable reps daily on the practice field.
"Anything that we do, whether it be scout-team reps, team reps or just individual drills, so much of it is just getting a feel for where you're at physically and how to throw each ball," Patullo said. "We work a lot of footwork drills, throwing into nets and the timing and stuff like that. So for him, everything he can do right now is good for him."