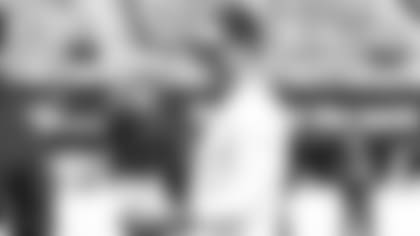 Injured quarterback Aaron Rodgers may not be quite ready to return to the field, but he plans to return to the Atlantic Health Jets Training Center full-time come Thanksgiving.
"I'll be back there full-time real soon, real soon," Rodgers said during his weekly spot on "The Pat McAfee Show."  "That's always been the plan once we got to Thanksgiving, to be back there full-time. It's the holiday season -- Thanksgiving, my birthday [December 2] and Christmas. Three in a row."
The Jets will host the Miami Dolphins in the first Black Friday game on Friday, Nov. 24.
Rodgers, who will turn 40 in about three weeks, has been bouncing back and forth between his home on the West Coast -- where he has been rehabbing from surgery in September to repair a torn Achilles tendon -- and New Jersey. But on Sunday, he was in Las Vegas when the Green & White lost to the Raiders.
During "Aaron Rodgers Tuesday" on the McAfee show, Rodgers said that what was said during his interview with NBC's sideline reporter Melissa Stark was not exactly spot on. It was reported that Rodgers said he hopes to be back playing in the middle of December and there was also a question about why he didn't toss a ball around, as he's been seen doing before Jets games.
"There's been a lot of questions," Rodgers said. "If I hadn't seen Davante [Adams, a former teammate in Green Bay] the night before, maybe I would have gone out there and thrown a couple to him. Sunday was my off day [from rehab]. I'm usually off Sunday, but for the Monday [vs. the Chargers] I flew the red eye, and on Monday was able to move around more, in a rehab mindset.
"The previous weeks I used to fly on my off day. This week Saturday was a long session of rehab. I flew to Vegas,  had dinner with Davante, walked around and Sunday was an off day. I wanted to be completely off — I need at least one day off every single week."
Asked on the show if his decision to not throw was because of a physical setback, Rodgers said: "There has been no setback. I never said anything to her [Stark] that was definitive. She said she had a conversation with my amazing doctor [Neal ElAttrache] about if it would be insane to try and come back in three months. He responded that when you bring together a specific type of surgery with a specific type of patient and a specific kind of stubborness to get back on the field, there is a possibility. Nothing has changed. We have to be in the [playoff] mix and I definitely want to come back."
During the game against the Raiders, Rodgers was again on the sideline wearing a headset as the Jets failed to score a touchdown for the second straight game. As one of the game's masters in the red zone, the four-time NFL MVP said that the ability to score touchdowns is the difference between being a winning or a losing team. Through nine games, the Jets (4-5) are last in the NFL, scoring a TD only 22.73% of the time inside the opponent's 20-yard line.
"It's been a tough nine games, there are a lot of issues we've been having, ones we've had a lot of this season," Rodgers said. "We've not been efficient in the red zone, and not being opportunistic on third down. In this game we got in the end zone twice -- Zach's TD was called back for out of bounds. It was a millimeter call. Then we score a rushing touchdown and it's called back for holding. There were some other opportunities to score points, but a lot of the same things have been hurting us every week. 
"If you don't get in the end zone, you're not going to win many games. The defense has been fantastic, but the offense has not been good enough. There's a lot of geniuses out there with ideas on how to fix it, but in actuality it's very simple. You can see where the issues lie in the film. There's plays to be made, the opportunities are out there. We're just not getting it done.
"What happens [in the red zone] is that the windows are smaller and everything happens quicker. You don't have to defend deep throws, you have the back of the end zone and the sideline. You have to play on time in that situation. It's efficiency. We [the Packers with Jets OC Nathaniel Hackett serving in the same capacity] were great in 2020, 80%, no one ever done before. We called plays and I got the ball out on time. It's better to be early in the red zone, it's all about throwing the ball in rhythm on time. You can't be late. On the play [Robert] Spillane picked off [late in Sunday's game] it was a 3- and 5-step combo, a left right. 
"We needed to reset and throw it back to the other side. If you miss on the footwork or you're late, that's when the issues come in."
And while much of the chatter in the media and elsewhere has centered around Wilson and Hackett's offense, Rodgers would have none of it.
"Yeah I see it, but hey, I won MVP twice in this same offense," he said. "I'm a believer in the offense. There's a lot of positions that have got to play better. It's easy right now to throw it at the usual suspects, Zach and Nathaniel, but a lot of positions need to play better."
At the end of his weekly visit, Rodgers was asked to comment on head coach Robert Saleh and his new crop of facial hair he was sporting in Las Vegas. He couldn't resist having a bit of fun with his coach.
"The beard is fantastic," Rodgers said. "He [Saleh] has the ability to have every square inch of his face covered by a hair follicle. I did mention before the game to loosen him up, I said the color is right on, the black he chose to paint it in! He responded quick and to made sure everyone on the headsets knew he didn't dye his hair. According to Mr. Coach Saleh, he does not put any product in his beard. His justification for that was to pull up his long sleeve and show me he had a lot of arm hair the exact same color. He said it proves he didn't put anything in his facial hair. He's gifted a couple of days' growth."