The New York Jets and the Public Schools Athletic League announced today the fifth annual Play Like A Jet college scholarship winners. The scholarships — $5,000 toward each winner's college education — were presented by Jets head coach Rex Ryan to Sarah De Jesus from the Bronx, NY, and Mohamed Koanda from Bronx, NY.
The Play Like A Jet scholarships have been awarded since 2010 to one male and one female PSAL athlete who excel both on the field and in the classroom. De Jesus graduates from Harry S. Truman High School this month and was a member of the tennis team. She will begin her studies in the culinary arts at Monroe College this fall. Koanda graduates from Taft Educational Campus also this month and was a member of the track and soccer teams. He will begin his studies in computer science at SUNY Buffalo State this fall.
"This scholarship will help me preserve my dreams," said De Jesus. "I thank the New York Jets for supporting and helping students like me to have a chance at achieving something."
"The *Play Like A Jet *Scholarship will be a springboard for me to pursue my college degree and to achieve my Olympic dreams and aspirations," said Koanda.
"Playing like a Jet goes beyond succeeding on the field," Ryan said. "It's in someone's makeup and shows in everything they do. On behalf of the Jets organization, I'm proud to present the 2014 recipients, Sarah and Mohamed, with these scholarships to help make their educational goals a reality."
"These scholarships will help student athletes as they pursue college or a career," said PSAL director Donald Douglas. "Our goal is to develop well-rounded, college-ready graduates, and we are so proud of these terrific student-athletes. We thank the Jets for being a true partner."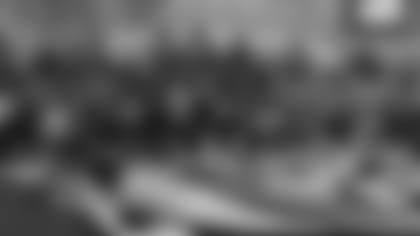 In addition to these scholarships, the Jets support the Public Schools Athletic League in a variety of ways. In 2001, they formed a community partnership with the PSAL for provide support to New York City public school football programs. The Jets and the PSAL expanded their partnership in 2005 and named it Heads Up!
Through an annual matching grant from the NFL's Youth Football Fund, the New York Jets donate $150,000 to PSAL football programs each year. The grant has helped recondition every helmet in the PSAL, ensuring the safety of more than 4,000 student-athletes. It has also helped establish the first PSAL Girls Varsity Flag Football League, created new and developmental football teams and expanded the C.H.A.M.P.S. Middle School Flag Football League throughout the New York City public school system. Besides providing funding, the Jets honor the PSAL football champions at a select home game during the NFL season.