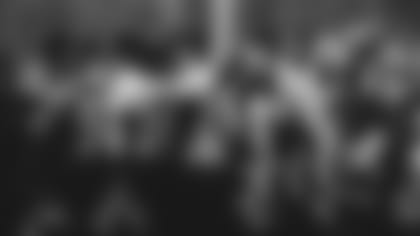 The football world stopped Monday night when Buffalo Bills safety S Damar Hamlin collapsed in the first quarter of a game against the Cincinnati Bengals. Hamlin, who was stricken by cardiac arrest, is in critical condition and remains on a ventilator at the University of Cincinnati Medical Center.
"It's an unfortunate tragedy," Jets head coach Robert Saleh said Wednesday.
"Thoughts and prayers go out to that family and to him," DT Sheldon Rankins said of Hamlin. "You just pray and pray that he is able to walk out of there fine and he is able to live his life normally the rest of his life."
Addressing the Jets for the first time since Hamlin's incident, the second-year head coach opened his team meeting for players to express their thoughts and feelings.
"Just opened it up in the team room, just opened it up for the guys to speak," Saleh said. "Obviously, our doctors were in there. If they had any questions for the docs and (we) gave the doctors the forum to kind of speak on that, too."
Rankins added: "Everybody had the floor to speak. It's one of those things that nobody really knows what to say. It's a situation that never really hasn't taken place — nobody has history with a situation like this."
While Hamlin, a 24-year-old defensive back in his second season out of Pittsburgh, battles, people have rallied to donate more than $6 million to his foundation's community toy drive.
"Very hard situation as I'm sure it is in every building in the NFL right now, just our thoughts and prayers to him," Saleh said. "Praying for a speedy recovery."
For approximately 16 minutes, a nationally televised audience watched in horror before an ambulance took Hamlin off the field following his tackle of Bengals WR Tee Higgins.
"It's bad enough for anybody to have to deal with anything when it comes to football whether it be a small injury or anything else, but for someone truly to be lying up in a hospital truly fighting for his life, nobody ever thinks of that when it comes to football," Rankins said. "It's truly a gut-wrenching feeling to think about that we go out there and play this game and that's a real possibility that could take place."
Saleh added: "I think it's a giant punch in the gut to everybody, especially outside NFL circles, to just watch it and lack the actual empathy to put themselves in the shoes of these football players and what they go through on a daily basis."
NHL defenseman Chris Pronger took to social media this week, expressing hope that Hamlin would recover like Pronger did after taking a slap shot to the chest in a 1998 playoff game between Pronger's St. Louis Blues and the Detroit Red Wings. The puck caused Pronger's heart to skip a beat and he was unconscious for 20 seconds only to return to the lineup four days later.
"There have been a lot of horrific injuries in this league and obviously this is the first of this nature and God willing the last and only," Saleh said of Hamlin.