"This whole process of practice squad from my understanding, from how the coaches have put it to me," S Rontez Miles said on Oct. 30, "is it's just a development process. Instead of being out there and just going through the motions because you feel like you're not playing, the mentality has to be that anything can happen at any given minute."
Two days later, on Nov. 1, Miles was signed from our practice squad to our active roster. And two days after that, Miles made his pro debut, flying down the field on 15 of our 31 special teams plays.
T.J. Barnes. Ras-I Dowling. Tevita Finau. Dalton Freeman. Saalim Hakim. Danny Lansanah. Chris Pantale.
Your 2013 Week 9 New York Jets practice squad.
Including Miles, the Jets have moved four players from their practice squad to their 53-man roster already this season: Lansanah, a linebacker, first, WR Michael Campbell second, LB Troy Davis third, and Miles. And that doesn't even include our leading receiver from Sunday's game vs. the Saints, WR Greg Salas, who was signed off of the Philadelphia Eagles' practice squad just a few weeks prior.These aren't exactly household names at the moment, but as recent history shows, any one of our seven practice squad players (after Miles' promotion) could become a meaningful contributor for the Green & White at a moment's notice.
While the quickest route to playing on Sundays is typically an injury to another player, for Miles, the recipe included a dose of hard work and dedication mixed with some positive energy.
"I'm very strong, I'm loud, I'm active, and I'm just a high motor," Miles said last week, while still a member of the practice squad. "I'm the one talking, I'm the one screaming, I'm the one trying to pump these guys up and a lot of guys come to work ready already, but when you're out there screaming for each other, playing for each other, and just letting them know, this is it, this has got to be our game and help them play as hard as everyone around them, then we're giving the offense or defense a way better look and overall it just helps everybody."
It worked for him, and it could work for others, too.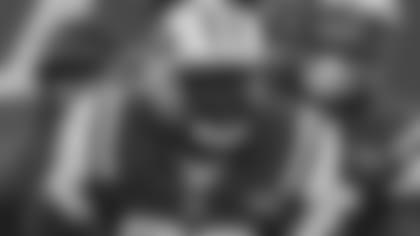 "I think about it sometimes," Lansanah said, "but you only can control what you can control, and that's going out there and working hard every day, putting it on film and showing them that you can play. You have to prepare yourself for if you do get that call so that you know what you're doing and you're in shape and stuff like that, so that's why you have to push yourself hard every day in practice."Any other team in the league can sign one of our practice squad players to their 53-man roster, but that thought is typically placed on the backburner for our P-squad members.
"I'm committed to the Jets right now," Pantale said. "That's where I am, and I want to stay focused here and do everything I can to play here and help this team any way I can. But you never know if an opportunity's going to present itself, so I can really only stay focused on myself and let my agent handle all that stuff. I'm only focused on the here and now."
The No. 1 goal: get signed to the Jets' 53-man roster. The No. 2 goal: get signed to another team's 53-man roster. Either of those would be better than staying put on the practice squad, right? Maybe for most, but not for T.J. Barnes.
"I worry about being picked up by a different team because once you get close to guys you don't want to end up leaving, but that's the business," he said. "I just love it here, the environment here is lovely, everybody goes out and has fun, so I just love being here. At first when I got here I was people-watching to see how everybody was interacting and stuff and it's just like a big family. No one's above nobody, it's like one big team, and that's how they go out and play on Sunday's is like one big group."
And before long, perhaps Barnes, maybe Pantale or Lansanah, or possibly Dowling, Finau, Freeman or Hakim will be a part of that unified group on Sundays.
"They play on Sunday while you play Wednesday through Friday," Lansanah said, "so you have to go out there and just work hard and give them the best look you can because we're all a team. If we don't give them the right look, they're not going to see it and they may mess it up in the game, so you have to do the best you can so that when Sunday comes, it's second nature for them and they know what to do."