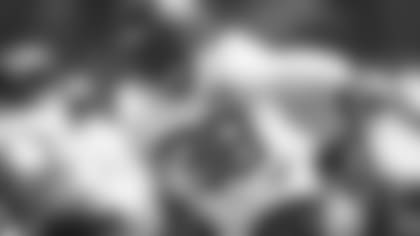 Week 1 of OTAs is in the books. The Jets have had more than 80 players participating in their third phase of voluntary workouts, giving the coaching staff a first look at their players on the field, rookies and veterans alike. While all the eyes -- at least externally -- have been on Zach Wilson, Head Coach Robert Saleh is looking at the entire roster.
"On defense, we're excited about all those Day-3 picks and some of the undrafted free agents," Saleh said. "They're definitely going to contribute this year. They're showing they can grasp the schemes that we're teaching. Their improvement, their footwork, their hand placement, their eyes are all improving little by little every day and the DBs are grasping our systems too and how tight we want things to be. It's been very promising, but like I told the guys, no one makes the team in OTAs. You might grab our attention, but at the end of the day, when the pads come on, that's when it gets real."
Some NFL teams have reduced their workload in the offseason program after discussions among the coaching staffs and players. When the Jets' coaches met with the veteran leadership on the team, they agreed to proceed as scheduled.
"We're already cognizant of our players and what they need to do to get themselves prepared," Saleh said. "There's always communication, but at the same time, they want to work, too. So it's been good collaboration on both sides."
Playbook and Cereal
Saleh praised Wilson's "relentless" work ethic and the rookie feels like he's been performing well in a short amount of time.
"I think it's really just a day at a time," Wilson said. "From Day 3 compared to Day 1, I feel like not just me but everybody is playing faster, being able to react more. Not necessarily thinking so much. I think that's the hardest thing when you're installing offenses, you're always trying to think of what coverage, what's my assignment, what's my split, my footwork and everything. We're being able to play a little bit faster and I think that's just making it more comfortable for everybody."
Wilson said he's embracing the challenge of learning the playbook and working out the kinks in practice such as progressing reads and getting used to formations and alignments. He then said Coach Saleh compared learning the playbook to watching TV while eating a bowl of cereal.
"Learning the plays, formations and alignments is kind of like eating that bowl of cereal," Wilson said. "You're not really sitting there thinking about lifting the spoon up to your mouth, chewing and all that kind of stuff. It just naturally happens. So for me, it's working on understanding the formations, the alignments, where the receivers should be. Then you start to pick up certain things against certain coverages and how guys run certain routes. It's going to be a process."
Mosley's Return
Friday was the first time the media saw many new Jets. It also marked the first time they saw C.J. Mosley on a football field since Oct. 21, 2019 when the middle linebacker re-injured his groin against the Patriots. He initially sustained the injury Week 1 in 2019. Returning from a year away from football after opting out of 2020 because of Covid, Mosley is itching to return.
"I'm just excited," he said. "The two-year hiatus, I'm excited to be on the field, get some sunlight running around, excited to be in the locker room making new friends with my teammates, building relationships with the coaches. I'm just happy to be here."
He added: "When you're out for a while, you always get in your head like, 'Alright, when I get back, how's it going to feel? Am I going to be able to move like I used to?' After finishing this week, I feel great. My conditioning feels good. I've been moving around. I'm just taking it one step at a time at our position. Just trying to learn this new system and be the best I can be."
Jetcetera
While no live contact is permitted during Phase 3, the Jets can put the players through 11-on-11, 9-on-7 and 7-on-7 periods. DT Folorunso Fatukasi and WR Lawrence Cager left Friday's session early. Fatukasi sustained an injury on a running play and Cager fell to the grass after running a route. … WR Keelan Cole made a nice snag on a deep ball from Zach Wilson and had a number of catches Thursday.
See the Best Images from the Final Practice During Week 1 of OTAs