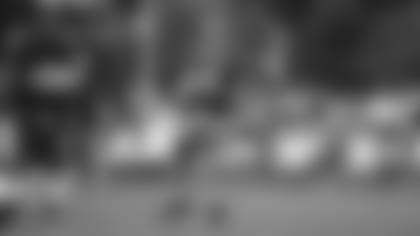 Current history repeated itself Saturday.
After the Jets practiced Wednesday, head coach Adam Gase said he knew QB Sam Darnold was going to have a good day after a botched handoff in the first team period because after a mistake, Darnold locks in. Saturday, Trumaine Johnson picked off the second-year signal-caller early in 7-on-7 work and once the team scrimmage began, Darnold came out firing.
The 22-year-old led a pair of touchdown drives in as many series against the second-team defense. In the first possession, the 6'3", 225-pounder connected on big gains with Robby Anderson, Quincy Enunwa and Jamison Crowder, who converted on third-and-9, before Chris Herndon reeled in a touchdown pass in the back of the end zone to finish the march.
"I felt like we executed pretty well today. We came out fast, came out executing and we slowed ourselves down with a few early penalties, but we didn't let it stop us. We still drove down the field both times and finished how we want to each time we're in the red zone," said Herndon, who later added about his score, "It was really just a scramble play. I had a simple seam route and when I looked back, Sam was getting ready to scramble. He saw me and we just kind of connected."
Then driving toward the opposite end zone, Darnold fired a perfect pass to the sideline just past the outstretched hands of a defender where only Crowder, who did a nice job of keeping two feet in bounds, could reel it in. Later that series, Le'Veon Bell kept the chains moving on fourth-and-short with a run up the gut and three plays after, Ty Montgomery found the end zone on a swing pass.
"When we got him signed, the wheels started turning on offense as far as what we're going to do, how we're going to use these guys and what it's going to look like," Gase said. "We're experimenting with all that stuff. His versatility, his flexibility and his knowledge, he's extremely smart. We put a lot on his plate and he's able to play a lot of different roles for us."
Defense Also Sharp in Scrimmage
After Darnold completed his day of work in the scrimmage periods, the first-team defense took the field against the second-team offense. Cornerback Brian Poole set the tone early, picking off Trevor Siemian on the third play of the drive. Jamal Adams made a nice run stop inside the defense's 10-yard line and eventually forced the offense from finding paydirt.
"I liked the energy. We got a lot of plays," Gase said. "That was probably the most plays we've done in a scrimmage-type [session]. It just felt like it was going smooth, so we kept going. It was good."
Jetcetera
Both the second and third teams were live in scrimmage. Jachai Polite had two sacks on the same series, backing the offense up to third-and-26, but UDFA WR Greg Dortch made a terrific catch to convert. Two plays later, Davis Webb found Tim White for the score. White also made a beautiful catch in 7-on-7 work. … Second-year DL Nathan Shepherd and Folorunso Fatukasi both made their presence felt in the run game. … LB Neville Hewitt popped Valentine Holmes on a touchdown-saving hit. … Tyler Jones (calf) and Harvey Langi (knee) both left practice early. … Kelvin Beachum has a sprained ankle. … The Jets waived TE Temuchin Hodges.
See the Best Images from Saturday's Scrimmage at Jets Camp