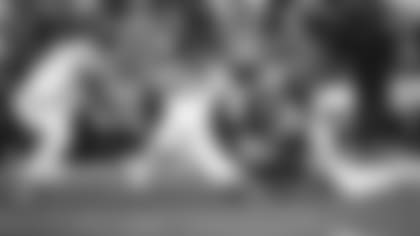 It was déjà vu all over again for the Jets, but not like Yogi Berra talking up back-to-back Yankees home runs 60 years ago. Robert Saleh and his players revisited the self-inflicted wounds and foot shooting that they went to after the Sunday night loss to the Chargers and returned to after the 16-12 fall-from-ahead loss to the Raiders in their first road trip to Las Vegas.
But several players had some deep, thoughtful and varied takes on what the Jets have to do to get back on the winning track.
"I think that was hard for us to overcome," TE Tyler Conklin said in the Allegiant Stadium visitors' locker room about another touchdown-less offensive game. "Oh, we're struggling on offense but we're getting some momentum and doing better. Then — bam! — we shoot ourselves in the foot and say, OK, what the hell are we doing? Penalties happen and adversity hits. That's something you have to do in this football league to be a good team. You can't do those things in the first place, but if you're going to have mistakes, you've got to overcome them. We weren't able to do that."
CB Sauce Gardner agreed that the defense has no margin for error, the way the offense has been playing, but he wasn't throwing anyone under the bus on that side of the ball.
"That's how we get coached," Gardner said. "We embrace the coaching, and the coaching is if they don't score, they can't win. We always put it on us.
"I'm not going to say it's surprising," Sauce added about how the defense's high level of play squared with the team's 4-5 record. "We're not playing complementary football. That's just a fact. Especially on defense, we've just got to make sure everybody's looking at themselves in the mirror and we just revisit the fundamentals. Having certain penalties happening in all three phases, we're going to revisit those fundamentals and we're not going to have to worry about those type of inflicted wounds or whatever it's called."
Back on offense, RB Breece Hall thought Gardner's mirror theory had merit.
"At the end of the day, we have to look at ourselves," Hall said. "I critique myself harder than anybody, so I feel like I can always do better. I caught a screen today and probably could've made some guys miss and gotten some more yards, little stuff like that. You've got to look at the man in the mirror first. You can point fingers, but once you do that, then we've got to come together as as whole and figure out what we need to do to get better."
One tactic that Hall thought had merit was a players-only meeting before their two tough AFC games, at Buffalo and home for Miami on Black Friday, come around.
"I'm probably the youngest layer, almost, on the team. It's been kind of difficult for me to be that vocal leader just because I've always been a guy that falls in place and does my job," he said. "But the older guys, that I do consider leaders, guys like C.J. [Mosley], [C.J.] Uzomah, Tyler Conklin, Zach [Wilson], Connor McGovern, even though he's not here, even Mekhi [Becton], seeing how hard he's worked and he takes pride in what he does. Those guys do well for us and they lead us very well. I trust in those guys to step up and talk to us. And I'm going to step up as well, and continue to grow into that position of being a leader."
:"I think from a leadership standpoint, we do need to get together and talk and figure it out," Conklin said. "I mean, I don't have an answer for you on how to do that, right? We won three in a row, then we dropped two. The offense, we haven't upheld our end of the bargain, really. It hurts. Our defense is playing so well, we've got so much love for each other. At the end of the day, we can't keep letting everybody down.
"We're all men on this team," Conklin concluded with a firm statement of faith in his unit. "We'll get in there this week and we'll figure it out. Something does have to happen, and we'll get it fixed."
See the best game action photos during Sunday's game against the Las Vegas Raiders.