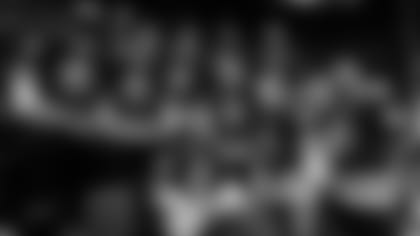 A group of the Jets' offensive linemen and quarterbacks, including the No. 2 overall pick Zach Wilson, went to the Green & White's former stomping grounds last Saturday, May 22. The 11 players spent their afternoon on Long Island cheering on the Islanders in the NHL playoffs against the Penguins.
"It was awesome," Jets C Connor McGovern said. "We had a blast. The Islanders treated us extremely well with custom jerseys and they really made us feel welcome. They were really building that New-York-athlete connection. We had an absolute blast. The Islanders played awesome. I grew up playing hockey being from North Dakota, so I was loving it. It was a fun, physical game with a lot of action. Dan [Feeney] became a phenom overnight. He's famous now for his mullet."
Jets G Greg Van Roten, who was born in Rockville Centre, NY and went to Chaminade High School in Mineola, NY, helped put everything together.
"Greg has been a fan of the Long-Island teams with the Jets, the Mets and the Islanders," McGovern said. "That's his teams from growing up. ... There's no better way to come together as an offensive line than having a couple cold pops and cheering on some fellow athletes. It was a great time."
As for having Wilson spend time with the guys blocking for him in practice, McGovern said, "It was awesome to have him come and partake and see what the NFL brotherhood is all about. That was really cool to have him spend a Saturday with us and really dive in and see what the NFL camaraderie is all about."