The Jets made a number of roster moves Tuesday, placing RG Brian Winters (shoulder) & OLB Mike Catapano (knee) on IR, promoting OL Donald Hawkins & DL Brandin Bryant from the practice squad and filling those vacancies with C Kyle Friend and TE Jason Vander Laan.
In his first year as the full-time starter at RG, Winters started 13 games this season. He's part of an offensive line that has helped pave the way for the No. 12 ranked rushing attack as the Jets have eclipsed the 150-yard mark in four games.
The 6'4", 270-pound Catapano appeared in 11 games this season, starting four contests. The Princeton product, who finished with seven defensive tackles, was primarily used in sub packages and special teams. Catapano, who attended Chaminade HS in Long Island, NY, played three games in 2015 after being promoted from the practice squad on Nov. 21.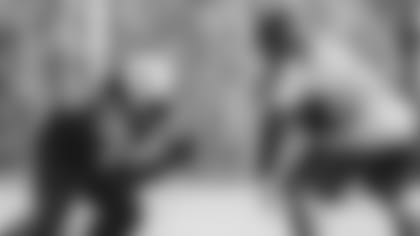 Hawkins, who joined the Jets P-squad Nov. 30, was originally signed as an undrafted free agent by Philadelphia in 2014. Since then, the Texas product has spent time with the Browns, the Cowboys, the Dolphins and the 49ers. In college, the 6'4", 310-pounder started 24 games at left tackle for the Longhorns after transferring from Northwest Community College in Mississippi.
Bryant signed to the Jets practice squad Oct. 24 after the undrafted free agent was cut a final cut of the Seahawks in September. The Florida Atlantic product totaled 13.5 sacks and 130 tackles in college and recorded the most bench press reps at last April's NFL Scouting Combine by a defensive lineman with 38.
This marks Friend's third stint with the Jets since being signed as an undrafted free agent in May. The 6'2", 305-pounder became the first three-time captain in Temple football history along with LB Tyler Matakevich. Friend appeared in 43 games for the Owls and made 41 starts.
The 6'4", 244-pound Vander Laan joined the Green & White as an UDFA and began his transition from quarterback to tight end. He was releasedd in the summer when the Jets got down to 75 players. The Ferris State product became the first player in NCAA history to both pass and rush for 1,000 yards in four consecutive seasons, leading the Bulldogs to a 37-9 record.