The Jets placed quarterback Josh McCown on Injured Reserve and promoted running back Akeem Judd to the active roster. The Green & White also signed running back Jahad Thomas and quarterback Joel Stave to the practice squad.
McCown broke his left hand in the third quarter against the Broncos Sunday. Through 14 games, the 38-year-old threw for 2,926 yards, 18 touchdowns and nine interceptions. His 67.3% completion percentage ranks third in the NFL. McCown also rushed for five scores, which is tied for first among quarterbacks.
Judd signed to the Jets' practice squad Oct. 24 after the Titans released him. The Ole Miss product originally joined Tennessee as a 2017 undrafted free agent and spent the preseason there before injuring his thumb. The 5'10", 225-pounder started 24 games for the Rebels and rushed for 1,251 yards and nine touchdowns with an average of 5.2 yards a carry.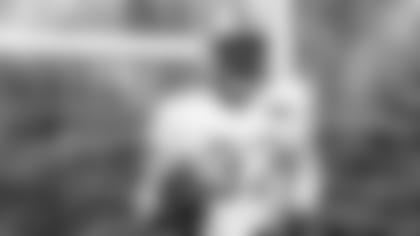 This is Thomas' third stint with the Green & White. The running back originally signed with the Jets Aug. 23 after he was released by the Cowboys. He was waived Sep. 2 and then joined the P-squad Oct. 10 before being let go eight days later. An Elizabeth, NJ native, the 5'10", 190-pounder rushed for 2,599 yards and 30 touchdowns at Temple from 2013-16. He also had 69 receptions for the Owls and totaled eight receiving scores.
Stave, a 2016 undrafted free agent, spent time with the Redskins this season. The Wisconsin product is the Badgers' all-time winningest quarterback with a 31-10 record. In 44 collegiate games, the 6'4", 230-pounder threw for 7,635 yards with 48 touchdowns and 37 interceptions.  
Offensive lineman Geoff Gray terminated his practice squad contract to sign with another team.