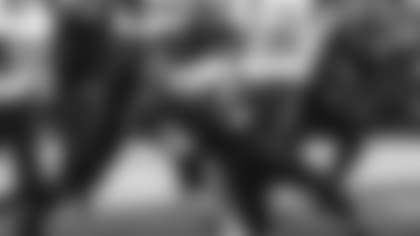 There are no more easy quarters and halves to the NFL schedule, now that teams play 17 regular-season games. But the Jets are poised to come flying out of their bye week and attack the "back eight" of their '22 schedule with vigor and anticipation.
No doubt, the final eight games, beginning Sunday, are filled with obstacles — the 5-4 Patriots at Gillette Stadium for starters, two road AFC East games against the teams they've beaten at home, a killer road strength of schedule in general.
But there's also the promise of the rewards the Jets have been pursuing for a while before head coach Robert Saleh and his team arrived last year, some of which are detailed below in this week's Jets game preview.
The Wilson Plan
Zach Wilson knows what he has to do: not commit turnovers. His record illustrates why not: In three career games vs. New England, he's thrown seven interceptions that led to 22 Patriots points, 7.3 points/game (and that includes last year's Foxboro game when he was injured early). In 16 starts against the rest of the NFL, his nine INTs have led to 26 opponents points, 1.6 points/game.
Wilson may or may not get help this week from the return of WR Corey Davis (knee) but he still has WRs Garrett Wilson, Braxton Berrios and Denzel Mims, TEs Tyler Conklin and C.J. Uzomah, and Michael Carter and the RBs to throw to. And what of Elijah Moore? As Saleh said: "Elijah's a special player and we're going to continue to find ways to get him going."
As long as Wilson can stay out of the clutches of league-leading sacker Matt Judon and as long as he doesn't throw those picks ...
Mac Sack Attack II?
The Jets defense is probably not as interested in their exact sack totals as members of some fantasy leagues would be. They just want to apply the pressure that forces QBs into mistakes. They did that to Mac Jones two games ago with six sacks — his most in a game as a pro — and eight hits. He also threw one interception and was saved from a pick-six by a Jets roughing penalty.
The Jets pass rush would love to jangle Jones again. A team record could be at stake. With four sacks, he'd become one of only three QBs since 1970 to be sacked 10 times in a season by the Green & White. (The Pats' Drew Bledsoe with 13 in 2000 and the Bills' Dennis Shaw with 11 in 1970 were the other two.)
But the primary interest is to force fumbles (the Jets have five strips in their last five games) and induce interceptions (the Green & White are tied for third in the NFL with 11 INTs, same as NE). It's doable, considering the Jets have a plus-4 turnover margin in their 4-0 road start while the Patriots are an unusual minus-4 in their 2-2 home start.
A Special Rematch
Specialists should again loom large in a Jets-Patriots game. Two games ago, Justin Hardee went at it against his ST idol, New England's Matt Slater. "Matt's a guy I can look up to," said Hardee, who won the tackle battle, 1-0. But Slater's units held Jets returner Braxton Berrios in check while springing rookie Marcus Jones for a 32-yard punt return to set up one of Nick Folk's five field goals.
The punt return was one of many special contributions to the Pats' average drive start of their 43-yard line in the Jets' late-October home loss. Jets ST coordinator Brant Boyer has been crushing it this week getting his units ready to do battle on enemy turf. Not just the kickers and punters will play major roles in who prevails Sunday.
Forcing the Issue
The Jets haven't won at Gillette since the 2010 playoffs, haven't beaten them anywhere since 2015 at MetLife. It's time to turn the tables, but how? Saleh hit the nail on the head this week with his take on the Patriots' way: "They force you into mistakes. They force you into shooting yourself in the foot."
Besides finding ways to make opponents make mistakes, HC Bill Belichick's team is also adept at optimizing their offense and defense. They annually are among the NFL leaders in scoring vs. yardage ranking margins. That speaks to doing all of those "hidden football" things that make winning teams, such as better turnover margin, better field position and fewer penalties than their opponents.
The Jets think they're becoming better at those team skills as well, in particular the way they've been playing fourth quarters all season. At some point, they've got to demonstrate that with a solid closing kick against the Pats.
The First Place People Look
We've saved first place for last place because Saleh and his players aren't jumping the gun on all the scenarios that can develop over the next two months. But for Jets fans of even moderate standing, the top is the spot and the Jets could be sharing it by Sunday night. All they need is to beat the Patriots for a 7-3 record, which would match division leader Miami's bye-week 7-3. Buffalo (6-3) could join them with a home win over Cleveland.
It would be the first time the Jets either shared the top spot or were alone atop the division this late in a season since 2010, when they were tied with the Patriots for No. 1 from Weeks 9 to 12. And it also prompts folks outside One Jets Drive to keep tabs on the wild-card picture. The Jets, currently in the AFC's fifth-seed slot, the first wild-card berth, have been out of the NFL's late-season tiebreaker chatter since 2015, when they were in it until after the final-game loss at Buffalo. But they must retain their focus because postseason scenarios change quickly, and the Bills are in the sixth-seed slot and the Patriots are seventh.
See the top practice images leading up to the Week 11 matchup against the Patriots.