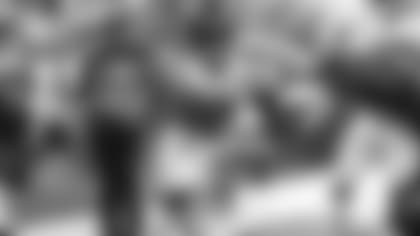 It's time for the Jets to return to MetLife Stadium on Sunday and tackle the Patriots, always an anticipated matchup and this year possibly a meeting of the longtime AFL-NFL rivals that is primed to reverse direction.
Head coach Robert Saleh's Jets have cleared new frontiers for themselves every week, and this time they're stepping further up in class, aiming for their first five-game winning streak and first 6-2 start to a season since 2010. Also with a win, they will open a three-game AFC East lead over the Patriots for the first time since the 2000 season. Even the two-game lead they enjoy this week is their first over the Pats since 2001. Yes, it's been that long.
But while New England sits at 3-4 and is coming off its Monday night home loss to Chicago, Bill Belichick and his coaches and troops always have something up their sleeves to frustrate the Green & White, either with a last-second game-winning field goal by Nick Folk (in 2020) or a 41-point "homecoming" victory at Foxboro, MA (a year and a week ago).
The Jets aim to break this logjam with a second straight home win, a second straight division triumph and lots of homefield advantage. They'll set out to do this soon after fans outside MetLife see and hear the noon fireworks display. That will signal that tailgating time should wind down and fans should head through the gates by 12:15 p.m. so they can be in their seats by 12:45 for player introductions, the fan-led national anthem and the opening kickoff.
Here are several battlegrounds that this engagement will be fought on:
Welcome Back, Carter
It would be easy for the Jets to feel a little sorry for themselves this week. With everything rolling their way, they suddenly lost three starters at Denver — rookie RB Breece Hall, RT Alijah Vera-Tucker and WR Corey Davis — with Hall and AVT gone for the season. Hall's loss will really sting after his 79-yard catch-and-run vs. Miami, his 62-yard TD dash at Denver, his team-high 681 scrimmage yards and five TDs ...
But Michael Carter will step into the fray nicely, and of course he never left, merely sharing the fray with Hall. MC was, after all, the starting tailback for most of his rookie season. He's elusive and tough. He has the most rush yards (867), scrimmage yards (1,343) and first downs (60) on the Jets in 2020-21 combined. In his 16 pro starts, he's totaled 1,032 YFS. And he'll have plenty of help with proven third-down back Ty Johnson, newly acquired James Robinson (1,070 rush yards, 10 offensive TDs as a Jaguars rookie in 2020) and Bam Knight, who showed well in the preseason.
Rankings don't guarantee success, but the Patriots are in the mid-20s in the NFL in rushing defense numbers. Baltimore's Lamar Jackson and Green Bay's Aaron Jones each dashed for 100 yards against them and the Bears divvied up their 243-yard primetime ground game four different ways. The Jets' rushing attack should survive and thrive post-Breece, beginning Sunday.
Quarterback, Quarterback
Mac Jones returned to action as New England's starting signal-caller on Monday night vs. Chicago, but then he was taken out of action again after two 3-and-out series and an INT and Bailey Zappe went back under center for the rest of the game. Players said they "weren't aware" or "were shocked" that Belichick planned on making a QB switch in this game. The Pats coach said he disclosed his plan to the QBs and team leaders and "there was no lack of communication."
Regardless, for his QB vs. the Jets, Belichick said, "We'll do what we think is best for the team." So it's either Jones, last year's surprisingly productive rookie starter who hasn't been as amazing this season while missing three games with an ankle injury, or Zappe, the Western Kentucky rookie who looked like this year's Mac Jones until coming on in relief vs. the Bears.
Either way, the Jets line led by Quinnen Williams, Carl Lawson and John Franklin-Myers need to fight their way past the always-prepared NE offensive line to knock the QB down or at least off his spot, which could lead to ...
Takeaways on Tap
It's been a reversal of turnover roles the first seven weeks for these two teams. The Jets are taking the ball away with abandon — eight TAs the first seven weeks, led by S Lamarcus Joyner's four. Their turnover margin is at plus-2, not gaudy, but they've had four consecutive plus games, the first time that's happened in-season since the first five games of 2010. With QB Zach Wilson protecting the leather, the Jets also haven't turned it over at all the past three games.
And they're looking to extend these TO trends against the Patriots, who have uncharacteristically struggled in the turnover category. They're still taking it away, but they're giving it away more through seven games than they have since, would you believe, 2002? They've had three games of three-plus giveaways and two games of minus-3 margins already, numbers they usually haven't seen for entire seasons in the past two decades.
But the Jets can't be overconfident about a big payday here. In their 12-game losing streak to the Pats, their TO margin is minus-25. And at the start of last year, the Patriots were minus-7 in their first five games against other teams, plus-7 in their two games vs. the Jets. As Saleh likes to say, "Make the main thing the main thing," which is not necessarily turnovers but preparing for and then doing all the things big and small that add up to another Green & White victory.
Making It Special
Pay attention to the specialists in this one. Braxton Berrios again is high in the return rankings — first in the NFL in kickoff return average, fourth in punt return average (min. five returns) — but New England rookie Marcus Jones has been making return waves, too. Greg Zuerlein for the Jets and ex-Jet Folk for the Patriots are two reliable, strong-legged kickers who could convert from 60 yards out if called on (Z's already done it, Folk hasn't, but he's come close).
And the coverage and return units are led by two of the best in the game — Matthew Slater for the Patriots and Justin Hardee for the Jets. Slater's been to 10 Pro Bowls in the past 14 seasons and knows all about this rivalry. Hardee knows some stuff as well, and he leads in ST tackles so far this year, 7-2. Both will be pumped when both teams put the foot into football at MetLife.
See the top practice images leading up to the Week 8 matchup against the Patriots.