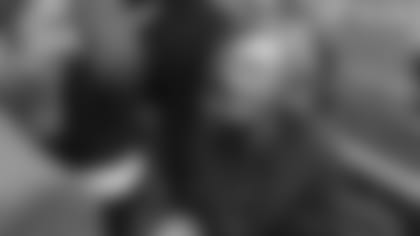 Betty Wold Johnson, the matriarch of the Johnson Family, has passed. Ms. Johnson, the mother of both Christopher Johnson, the Jets CEO, and Woody Johnson, the United States Ambassador to Great Britain and Northern Ireland, was a renown philanthropist and long-time contributor to arts, education and healthcare initiatives throughout the New Jersey and New York regions. She was 99.
"There are very few people in this world who live to 99," said former Jets RB Curtis Martin, the Jets all-time leading rusher and NFL Hall of Famer, of Ms. Johnson. "And I'm sure if you go back and look at everything she did for other people, you could probably write a book on her from a philanthropic standpoint… She had such a charitable heart and a charitable way about her."
A staunch supporter of her sons and their passions, Ms. Johnson used to refer to Jets players as her grandchildren. Football had always been part of her life as she spent some of her formative years in Minnesota listening to and attending Golden Gophers games with her father Karl Christian Wold, a doctor. She later married Robert Wood Johnson and had five children with him before his death in 1970.
"To me, two of her greatest qualities were humility and approachability. Ms. Johnson was such an approachable and humble lady," said former Jets QB Chad Pennington, the No. 18 overall selection in the 2000 NFL Draft who led the club to the postseason three times. "When I think of her, I think of her as The First Lady of the Jets. I think of Ms. Johnson as nothing but first class with how she treated people, how she carried herself and how she represented herself and her family."
She connected with people and Martin, who retired after the 2006 season, said the highlight for him while attending Jets games was his interaction with Ms. Johnson.
"She was just such a wonderful woman," Martin said. "She was definitely the First Lady of the Jets. She had such a presence there. And as far as the players being like grandchildren to her, I can definitely see that because she was such a warm person. She had a personal interest rooting for the Jets, but just her energy, she had a younger person's energy. And she was just very approachable to everyone who met her. I just loved her as a human being."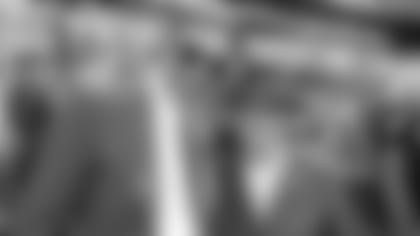 Ms. Johnson, who later married Douglas Bushnell in 1978, used her strength to help others. In 2008, she donated $11 million to the New Jersey Performing Arts Center, the single largest individual gift in the Newark arts center's history.
"She understood that life was about people and having good relationships with people and through success being able to share some of that success with others," Pennington said.
In addition to being a benefactor of NJPAC, Ms. Johnson was a supporter of many Princeton and New York arts and science institutions, including the McCarter Theatre, the Nature Conservancy of NJ, the Liberty Science Center, the Arts Council of Princeton, the Princeton Public Library and the Metropolitan Museum of Art. She once stated that she was drawn to the arts because they feed the spirit.
In the medical arena she also funded the rebuilding of Princeton Hospital and, through Project Renewal, she supported aid to the homeless and programs providing mobile health services to those in need. Ms. Johnson was an annual leading supporter of the Jets Kickoff Luncheon, benefiting the Lupus Research Alliance and its goal to prevent cure, treat and ultimately cure lupus.
"She cared and when you have the opportunity to step into somebody else's story and make it better, it's an honor," said Josh McCown, a signal-caller who lined up for the Green & White in 2017-18. "She felt the need to do so in so many areas and she leveraged her influence for good and I think that's a message for all of us that we can all take with us — to look at where we are at life, wherever walk of life you're in, and take that and leverage that for good for the world and the community."
Long before Ms. Johnson's well-known charitable efforts, she enlisted in the Navy's WAVE after the attack on Pearl Harbor. She was stationed in Corpus Christi, TX and helped train young fighter pilots in flight simulators at Rhode Island's Naval Air Station. A friend to so many in the community, Ms. Johnson was once asked what her greatest pleasure was and the champion to many responded, "Life."