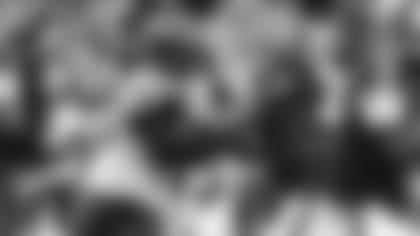 Over the past three games, the Jets pass rush has evolved to a new level. They racked up 16 sacks in Weeks 8-10 — compared to nine sacks the previous seven games — and have raised their total to 25 on the season, which is tied for 15th most in the league. And one of the their top pressure performances came last Sunday against the Redskins.
"We showed them a lot of different looks where it would be the same personnel and same groupings, but have a different guy drop out," said linebacker Jordan Jenkins. "They didn't know where the pressure was coming from because of all the different looks we showed throughout the season. It definitely was a well-thought out game plan that was executed darn near to perfection."
Gregg Williams' unit went into FedExField determined to get into rookie quarterback Dwayne Haskins' head and they did just that, sacking him six different times. The week before, the unit had the same mindset and tormented rookie QB Daniel Jones with six sacks as well. The previous two games marked the first time in franchise history the Green & White had a six-pack of sacks in consecutive contests. And in Week 9 at Miami, the Jets kicked off their three-game hot streak by getting to QB Ryan Fitzpatrick four times.
Before the chaos, though, there were dry spells for the Jets. Between Weeks 1-8, the defense played five games in which they recorded one sack or less.
"We knew that sacks come in bunches so we couldn't let that get in our head. You just have to make the play when it's your turn to make it," Jenkins said. "That's something we've really been harping on these last three or four weeks. Early on, we had some really mobile quarterbacks and some really shifty guys. So, we came together and were like, 'Alright if we want to get sacks, we all need to play off one another.' In order to do that we need to maintain our rush lanes and that's when the sacks will come."
The 6'3", 259-pound Jenkins has already totaled five sacks in his eight games played and is on track to top his career high from last season. In 2018, the Georgia product tied with defensive lineman Henry Anderson for the Jets' lead with seven, but his focus is on the success of the team.
"In my mind I'm looking to get those next five sacks to finally break the double-digit barrier. But as long as we keep stacking W's, I'm happy with it," said Jenkins.
The defensive unit continues to excel against the run. They now rank first both in the league in rushing yards allowed per game (79.1) and first in rushing yards allowed per play (2.98).
As the team prepares this week to take on the Oakland Raiders at home, the challenges to keep up the pass rush and stop the run will play hand-in-hand. Williams is preparing his unit for the sixth-year veteran QB Derek Carr, who has completed 72.3% of his passes and thrown for 2,494 yards, 15 touchdowns and just five interceptions. The Raiders have a balanced offensive attack as their rush offense ranks ninth (128.2 Yds/G) and rookie Josh Jacobs has already rushed for 923 yards and seven touchdowns.
"In order for you to have the fun, you want to have to get to the quarterback on third down and in the pass situation, you have to stop the run," said Jenkins. "If a team doesn't need to pass the ball, why the hell are they going to pass the ball? They'll just keep running it down your throat."