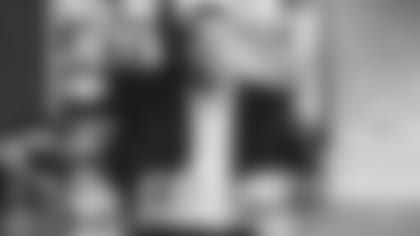 Even though the Jets' new offensive lineman Wes Schweitzer hasn't taken a snap or practiced with his new team, he said he feels at home. He was signed last week in free agency.
"I knew it was a tough and physical team," he said. "I watched the film. I've seen the defense, I've seen the offense. I see the style that they play with and that's the style that I play with. I want to bring a work ethic and a hard-nosed mentality to this team. I'm excited to be here.
"I'm hard-working, I'm going to play through the whistle every play whatever position I'm playing. I'm going to bring my best every gameday and I'm going to be a reliable, day-in day-out player."
Schweitzer, 29, also brings versatility. He's taken snaps at every offensive line position since being drafted by the Falcons in the sixth round in 2017 out of San Jose State. He's predominantly played left guard (2,219 snaps), followed by right guard (1,979), center (430), left tackle (3) and right tackle (1).
He played the last three seasons for the Commanders and has started in 24 of the 34 games he's played in. Of his 6 starts in 2022, 5 came at the pivot.
"Everyone's competitive and then you get thrown into the fire and then you realize, oh, I can do this," Schweitzer said. "I don't need to practice a spot. I can come in, play the spot and I can play well. Then once you do that one time, you build a confidence and then you just realize you're just playing ball, whatever spot you're at."
Schweitzer's versatility extends off the field with his training. He's an avid fan of rock climbing that's led him to Tennessee, Georgia, Kentucky, Pennsylvania, California and Ireland.
"I had all these nagging upper-body injuries, shoulder issues, elbow issues, hand issues," he said. "I did all traditional rehab and nothing was working. I started getting into climbing through my trainer and all of a sudden, I was pain free. But then I was one of the strongest people in the weight room, but I could barely do the easiest climb in the gym. I'm like, why, doesn't that translate? So then I started getting into it, started gaining muscle and then I started playing better. Then the rest is history. I'm pain free, I'm a stronger player and it's a passion of mine. Heavy rock climbers are 160-170 pounds. I'm 330, so it's fun to kind of like set the standard for that weight and I'm excited to be that kind of person."
After trading his burgundy and gold for green and white, Schweitzer is excited about being a part of a team on the rise.
"I could see the team that's building," he said. "I've been watching and I could see we get a couple pieces and we're going to make a big jump. I'm excited to be a part of that process and just contribute in whatever way I can."