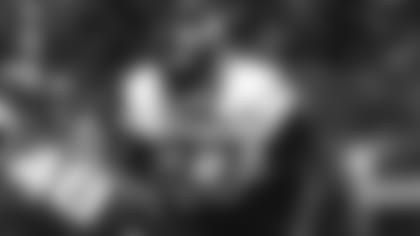 In his first NFL training camp, Jets rookie offensive lineman Mekhi Becton immediately realized that he needed to work on improving every aspect of his game. And he has done exactly that.
"I would definitely say I got better as a player, person and teammate," Becton said on his takeaways from camp. "I definitely learned how to take care of my body, technique, plays, everything. I've gotten better over this time period."
He added: "I fixed my hand placement and made sure that I keep my feet moving and don't just stop once I make contact. Those are the things I worked on the most and needed to harp on the most. I also needed to work on my back side cutoff as well."
Drafted No. 11 overall in April, "Mount Becton" and other first-year players were confronted with unusual circumstances due to the COVID-19 pandemic. The team's physical interactions were limited to a shortened training camp — one that didn't take place until late July and August — and no preseason games, making it difficult to adjust to the new playbook.
"It was hard at first," Becton said. "Being in virtual meetings, I would say that was the hardest part. Now that I can actually be on the field and go through plays and see the defense and how they draw it up, I feel like it's definitely easier being on the field than in virtual meetings."
At 6-7, 363 pounds, Becton has garnered attention at both the collegiate and professional levels for his size, strength and speed. The 21-year-old rookie used those assets and spent the majority of camp participating in first-team reps. He was one of the new members GM Joe Douglas added on the offensive line. Although confident in his abilities, Becton still faced some struggles in competing against the schemes devised by defensive coordinator Gregg Williams.
"It's difficult going against a Gregg Williams defense," Becton said. "He's got a whole lot of different things that he throws at us, so it's different. It prepared me a lot for this season, it helped me out a lot."
Despite the adjustments facing Williams' intense defense, Becton is prepared for his NFL debut in Week 1 at Buffalo, and his coaches are confident he's prepared.
"It's funny, he looks like he's been doing this for a minute," said Head Coach Adam Gase about Becton. "It looks very natural for him. … He looks comfortable to me. And he's not making mistakes. I've been extremely impressed by how he's operating as far as his knowledge of football, how he's retaining things, acquiring the information, recalling it, and then at the same time executing, playing fast. He's doing a really good job."