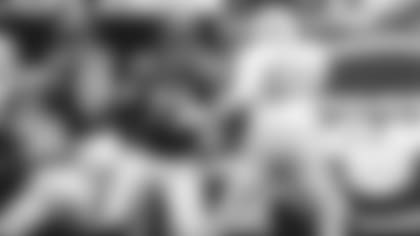 The last time Jets OL Laurent Duvernay-Tardif started an NFL game, he hoisted the Lombardi Trophy in Miami with the Chiefs in their Super Bowl LIV win over the 49ers. He then opted out of the 2020 season to work as an orderly at a long-term care facility near Montreal, his hometown.
Nearly 16 months later, Duvernay-Tardif's his first start since the Super Bowl came against the team whose stadium he last played in. He played all 60 snaps on offense in the Green & White's 24-17 loss to the Dolphins on Sunday at MetLife Stadium.
"From a physical standpoint, it felt great," he said. "I think the guys were communicating well on the line of scrimmage. From a game plan perspective, I think I made a couple of mistakes, but it's just good to be back and play football. It's been 18 months. That one hurt, we all wish we would have won it, but we have to work hard and build something."
The Jets traded for LDT on Nov. 2, the NFL trade deadline. He was inactive against the Colts in Week 9 and was active but didn't take any snaps in Week 10 against the Bills before receiving the nod for Week 11.
"LDT, just giving him a chance to go out there," head coach Robert Saleh said of the decision to start Duvernay-Tardif. "[Greg Van Roten] has been playing his butt off. It was just a chance for us to get LDT in there and see if we can get some more production out of that right guard spot."
Duvernay-Tardif was tested early with Miami's defense that offers different Cover-0 looks. He also had to communicate with two right tackles -- Morgan Moses started the game and exited in the second quarter with an ankle injury. Conor McDermott took the eight snaps Moses missed.
"I think he did pretty well to be honest," Duvernay-Tardif said of McDermott. "He was just coming off IR. I met him a couple days ago. It's been a quick turnaround for sure. Morgan was pretty good at talking and then it was my job and his job to communicate together because we're both new to this offense. Overall, I think it went well, but I was pretty happy to see Morgan coming back."
He added of the offensive line's performance against the Dolphins defense: "At the end of the day, it's all about communicating with the whole line, knowing who to block and how to block it, handling games and pressure. I think coming in as my first game, that was probably a difficult game because of the pressure and the variety they were bringing. Overall, I think Connor [McGovern] did an awesome job sending us into the right direction and we just have to execute."
The Jets had 380 yards of total offense and moved the ball effectively, but the team couldn't mount a comeback. The offense ran three plays in the fourth quarter before its final possession.
"I feel like in critical situations, we were in the red zone, we had a turnover, missed field goals," Duvernay-Tardif said. "At the end of the day, we have to score points. I feel like we were moving the ball pretty good and then in the third and fourth quarters, I think we had like eight plays of offense. You need to be out there, on the field, moving the rock and scoring points."