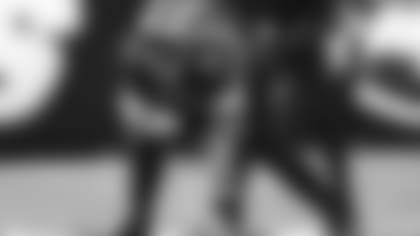 Adversity comes in all shapes and sizes. Last season, the Jets had to overcome injuries and QB Sam Darnold's bout with mono. This year, COVID-19 has presented many unexpected challenges in the offseason, but Jets OL Alex Lewis is focusing on what he can control.
"The best way I can put it is get better one day at a time," Lewis said. "We're facing a lot of adversity this year. I just want to shout out all the doctors, they're the real heroes. But as athletes, you're always going to face challenges, it's how you respond and that's just focusing on your job, getting better every single day and getting better at the one thing you're focusing on at that time."
The Jets OL, which underwent an offseason makeover, finally met in person for the first time recently after a spring filled with virtual meetings and bonding sessions. The unit created a group text to try and develop chemistry since they couldn't have a typical O-line BBQ at a player's house.
"Now that everyone is back at the facility together, we're doing everything we can to build that chemistry whether we're on the field getting after it, competing against one another," said Lewis, who re-signed with the Green & White in the offseason after starting 12 games in 2019. "We're talking through the playbook after our runs in the locker room, quizzing each other and just pushing one another. That's the best way we can build chemistry now. We're very limited still, but we're trying to take full advantage of the time we have together."
Lewis is one of the few returning faces to have started in OL coach Frank Pollack's system. The Jets started 11 players up front last year and had nine different starting line combinations. The other returning players to start last year are Jonotthan Harrison, Chuma Edoga and Conor McDermott. General manager Joe Douglas added seven new faces via free agency and the Jets will start five new players along the OL in Week 1 compared to last year's season opener. Lewis is excited to work with "The Great Wall of Green," better known as first-round pick Mekhi Becton, who will compete for a starting job.
"For a rookie, the game is very fast and everybody goes through that adjustment, the speed of the game, the speed of players," Lewis said. "My job, I don't want to carry an extra burden, I'm just there to help him along when it comes to the mental aspect. You don't want him thinking too much and playing slow, so if I can be out there dialing in all the calls so he can just play football, that's what I'm going to do. I think everyone is taking that ownership across the O-line. We want to play fast and play physical."
The Jets are amidst their strength and conditioning program, which typically takes place in the spring, and have done some field work before they put on the pads in the coming weeks. Offensive line play is predicated on physicality, but they're working on fundamentals and technique in the non-pad days as Pollack tries see which five players jell best as one unit.
"I tell the guys all the time to get over the part that it's hard, accept the fact and then just get out there, work and grind," Pollack said. "We have to put in extra time pre-practice or post-practice whether that's extra drill work, walking through stuff or extra meetings. At the end of the day, each individual has to take it upon themselves to put in the time and be a pro. That's what it's all about. That's what every team is dealing with."