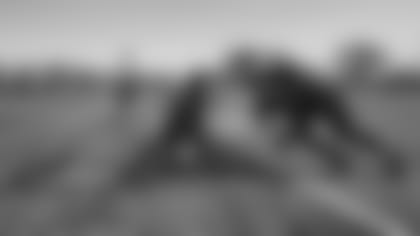 You could tell, last month at the NFL Annual Meeting, that new Jets head coach Adam Gase was champing at the offseason bit.
"It's tough when you're sitting around, you're watching film, you're doing all these things, but you have no interaction with the players," he told Eric Allen of newyorkjets.com. "You really want to get those guys in the building so you can start teaching the way we do things, how we're going to go about our business moving forward. And I think guys are excited to get back, be done with the break, and I know most guys are working out, getting ready to go, because once April 8 comes, we're going to hit the ground running."
Well, April 8 is almost here. The Jets are among the first eight NFL teams, all with new head coaches, to begin their voluntary offseason workout programs early. On Monday Gase will be at the Atlantic Health Training Center to welcome his veterans to the start of the voluntary nine-week offseason program, which will provide training, teaching and physical conditioning.
The program, set up under Article 21 of the Collective Bargaining Agreement, is conducted in three phases:
Phase 1: The first two weeks, with activities limited to strength, conditioning and physical rehab only.
Phase 2: The next three weeks, with on-field workouts that may include individual player instruction and drills as well as team practices conducted on a "separates" basis. No live contact or team offense vs. team defense drills are permitted.
Phase 3: The final four weeks, during which teams may conduct 10 days of Organized Team Activities (OTAs, of course). No live contact is permitted, but 7-on-7, 9-on-7 and 11-on-11 drills are allowed.
Gase will conduct a mandatory full-squad minicamp in June. Because he is in his first year as Jets head coach, he can conduct an additional, voluntary, veterans minicamp before the draft.
The Jets also can hold a rookie football development program for seven weeks beginning May 13. During this period, no activities may be held on weekends. This year the team will not hold a rookie minicamp but will have its draft choices and undrafted free agents in for rookie orientation before the start of the program.
Here is the Jets' tentative schedule for the coming three months:
Table inside Article

| | Days | Dates |
| --- | --- | --- |
| First Day of Offseason Program | MON | April 8 |
| Voluntary Veteran Minicamp | TUE-THU | April 23-25 |
| NFL Draft in Nashville, TN | THU-SAT | April 25-27 |
| Rookie Orientation (No Minicamp) | THU-SUN | May 9-12 |
| OTA Offseason Workouts | TUE-THU | May 21-23 |
| OTA Offseason Workouts | TUE-THU | May 28-30 |
| Mandatory Minicamp (Physicals) | MON | June 3 |
| Mandatory Minicamp Practices | TUE-THU | June 4-6 |
| OTA Offseason Workouts | MON-THU | June 10-13 |