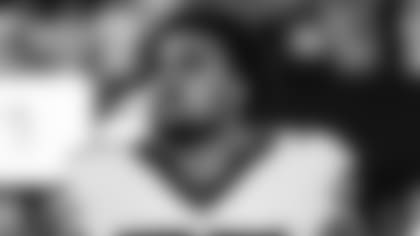 An MRI confirmed Monday that Jets OL Alijah Vera-Tucker sustained a torn Achilles against the Denver Broncos. Vera-Tucker, the Jets most versatile OL, will miss the remainder of the 2023 season.
Vera-Tucker, who was lost to a torn triceps in Denver during a 16-9 win over the Broncos last October, cruelly had his season end again at Mile High again he exited in the second quarter Sunday of the team's 31-21 victory over the Broncos.
"It's the second year in a row and we're all kind of surprised because he played a play on it," HC Robert Saleh said. "He walked off on his own power, he walked to the locker room on his own power. So, we were pretty optimistic that part of it was going to be okay. It's a blow and again, I feel bad for him. He battled his way back this offseason from the injury a year ago and to have this happen again, it's unfortunate."
Vera Tucker, one of just seven players who logged 50+ snaps at three different positions last season (RG, LT, RT) started the Jets' first two games at RG before shifting to RT in Weeks 3-5.
"I'll do whatever is asked, that's just me having confidence in myself," AVT said recently on the The Official Jets Podcast. "Another part is being a team guy and doing whatever's best for the team."
When Vera-Tucker walked to the locker room in the second quarter, he was replaced in the lineup by second-year T Max Mitchell. A gameday inactive the season's first three games, Mitchell, a fourth-round pick out of Louisiana, appeared in six games his rookie season and started five before he was shut down due to blood clots.
"I thought he did a really good job," Saleh said of Mitchell's performance against the Broncos. "A year ago, I think he surprised everybody when he got in there and played at a pretty good level. I thought he did a decent job yesterday. Things that we can improve on obviously, with regards to pass protection. I thought he was really good in the run game. One thing Max is going to give you — he's going to give you everything he's got, and he strains as good as well as anybody. He's somebody that we have full faith in."
The Jets also signed veteran Billy Turner in the offseason, who is familiar with OC Nathaniel Hackett's system. Hackett coached Turner from 2019-21 with the Packers and '22 with the Broncos. Most of Turner's experience has come on the right side of the offensive line – 2,127 snaps at right guard and 2,157 at right tackle in 91 career games (75 starts).
"A seasoned veteran," Saleh said of Turner. "He knows how to play the game, knows how to keep the quarterback upright, communicates at a high level and has played this game for a very long time. So, he knows how to play the game."
Saleh elected to keep his short-term plan at right tackle "close to the vest" as his team continues to prepare for Sunday's game against the Philadelphia Eagles. As for the long term, other options could include Duane Brown, who is eligible to return from injured reserve for the Giants game in Week 8, and rookie Carter Warren, a fourth-round pick whose 21-day practice window was activated last week after he missed almost all of training camp with an injury he sustained in the Hall of Fame Game.
"He's got a long way to go, but it's going to be a baptism by fire for him in terms of getting himself ready to play football games," Saleh said of Warren.