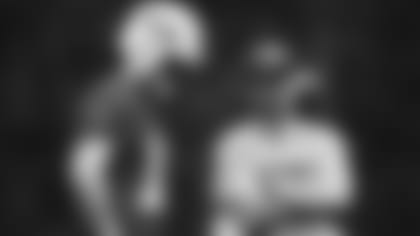 The bright lights of the big city can make people shrink. But Jets offensive coordinator Jeremy Bates believes rookie signal caller Sam Darnold thrives the most when thrust into the spotlight.
"Mentally, he's sharp. He loves the game. He's tough," Bates told reporters today. "He's everything you're looking for in a young quarterback as far as the ability to go out there and the game isn't too big for him. Stage isn't too big for him. When the lights come on, he gets better."
Darnold, the No. 3 overall selection in April's Draft, has tough skin. When he makes a mistake, the USC product aims to elevate his game on the next play.
"He moves on. Actually when he has a mistake, the next play, he's more focused, more intense and usually does better that next play," Bates said. "He's a mature 21-year-old and nothing is too big for him. He doesn't get down on himself. He understands the next play is what's most important. He does it day in and day out."
In two preseason appearances, Darnold has completed 72% of his passes with one touchdown and he has been intercepted once. Darnold has impressed the coaching staff with ability to retain information and make a quick transition to Bates' system despite missing the first three camp practices while his rookie deal was hammered out.
"I think he's progressing extremely fast for a young quarterback to come in here," said Bates, who doubles as the team's quarterbacks coach and is assisted by Mick Lombardi . "A great example would be the three or four days he wasn't here. When he came out on the field — he didn't even have meetings — he just went in there and started calling plays and running play. As you guys know, it takes a lot of young quarterbacks to learn the plays and spit it out in the huddle. That, a lot of times, takes a whole year for some guys. He just came out, no meeting time, and hit the field running."
Under the weight of high expectations, Darnold perhaps has set the bar highest for himself. Bates has thrown the whole playbook at the rookie and he has thrived in a high-pressure environment.
"I think number one is how easy the game is for him both mentally and physically. We haven't scaled back offensively," said the Green & White play-caller. "We've been given the same amount of information that we're giving Josh and Teddy. He's able to take the classroom knowledge and all the stuff he's studied in the classroom and taken it to the field and execute it. We're throwing a lot of football at him and he's been able to handle it. That's hard to tell in college. In college, he was looking at the signs on the sidelines, so you never know. He's owned the playbook, so that's probably the most impressive thing."
Darnold's athleticism has also opened eyes. He uses his feet to avoid pressure and create new throwing lanes and has a penchant for finding the open man.
"I think it's what all you guys probably did see in college — the ability to make plays off schedule. As we all know, it's not a 7-on-7 league and when things break down — which they do probably 70% of the game — he's able to keep his head downfield. He's able to scramble and find the lanes and the open receiver. Just being able to make plays off schedule is very powerful. He did it in college and he's still doing it today. A lot of young quarterbacks scramble and run, but he only runs when things break down. He stays in the pocket, he pushes up, keeps his eyes downfield and he makes plays at an uncomfortable position."