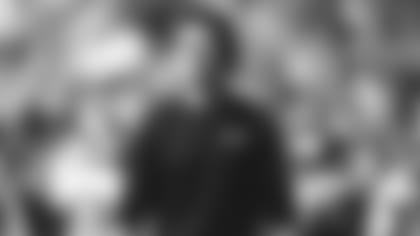 Jets offensive coordinator Mike LaFleur on Thursday acknowledged the challenges facing his position group, but also sent an emphatic message ahead of Sunday's game against the visiting Titans.
"Again, I told the guys on Monday, as long as I'm here, there's zero panic," LaFleur said. "Just show hope and work your butt off every single day, every coach, every player. When we do that we'll get results."
Even though the Jets have scored only 3 points in the first half of their first three games, there is a certainty among head coach Robert Saleh, LaFleur and the players that the road to a productive offense is not far off. And Saleh is convinced that LaFleur is the guy to get the job done.
"I think he's done a good job," Saleh said on Wednesday. "When things work, you're a genius, when don't you're an idiot. That's the NFL. There's thoughtfulness in his calls. We need to fix a couple of things, but once it all clicks people will appreciate the job he's doing."
It has been a familiar point of discussion as the Jets have started the 2021 NFL season with three losses that the team is led by a rookie coach, with a rookie offensive coordinator who is working with a rookie quarterback. While that is certainly true, the opposition -- this week 2-1 Tennessee comes to MetLife Stadium -- will not make any concessions.
LaFleur admitted that the game in Denver, a 26-0 loss, "got away from me."
"Just getting the right amount of plays, not moving the chains on third down," he said. "We were alright on third-and-short, but it's not good enough. It's hard enough to get into the game, but when we got behind, they [the Broncos defense] couldn't care less about [QB] keepers, play action, dink and dump."
Few plays seemed to work against the Broncos. Rookie QB Zach Wilson was 19 of 35 for 160 yards, he was sacked five times and threw two late interceptions. Wilson acknowledged being indecisive in the pocket. As the mantra goes on offense, it takes all 11 players to make it go, 11 players and the OC calling the plays on the sideline.
"I second-guess everything, in a good way," LaFleur said. "Just don't lose confidence. After Sunday, I'm always looking at how can I be better, and that will never stop. My former boss Kyle [Shanahan, coach of the 49ers] was the same way. He'd call a great game, but if three or four plays didn't work, that bugged him the most."
In his critique of Wilson's play, LaFleur echoed earlier comments by Saleh in which he urged his rookie QB to be more decisive.
"It's about how to maneuver in the pocket," LaFleur said. "It's a huge process getting the ball out to receivers and receivers getting off the ball and the O-line doing its job. It takes all 11 starters ... and it starts with me.
"But the longer he [Wilson] holds onto the ball, the worse it's going to be. When you hold the ball, good things are not going to happen. He's got to speed up."
"A core philosophy of mine is that execution takes players and coaches on the same page to execute one play," LaFleur said. "If one guy makes a mistake, it can cost the whole play. A core value is to get guys to all be in unison. If there's an issue, what are we saying, how are we not making it so they understand? I also have to look in the mirror and ask how can I be better. I believe firmly that it starts with coaching when guys aren't executing.
"There's not one stat we need to get better in, we need to be better in a lot of areas."