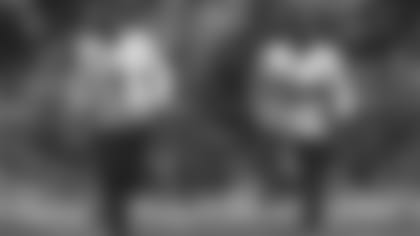 When teams add players, they look for talent, system fit, culture fit and more. Jets new WR Corey Davis, who was signed this offseason, checks all the boxes for offensive coordinator Mike LaFleur.
"Corey could be good in any system," LaFleur said. "I just think he's really good in this system because he's got physicality, he's got size, he can put his foot in the ground, one-foot cut and separate. That's what this offense kind of started to become. It's a lot of just one-foot cut, separate, let's get the ball and go.
"And when you have a guy that can put his foot in the ground sharply, still run away from you, catch the ball, our quarterbacks feel that guy. You can feel him going over the middle. You feel like he's got a big radius and on top of it, he's fearless. The reason you know that is because you've seen it on tape. Corey can be successful anywhere. He's made up of all the right stuff, but I do think this system fits him really well."
Davis (6-3, 209) was drafted No. 5 overall in 2017 out of Western Michigan and had a decent season – he had 34 receptions, 375 yards in 11 games (nine starts). He didn't score a touchdown until his second year when he broke out (65 rec, 891 yards, 4 TDs) with LaFleur's brother, Matt, who was hired as the offensive coordinator for the Titans in 2018. Matt left after one season in Tennessee to become Green Bay's head coach and Arthur Smith took over.
Davis is coming off his best pro season and was 16 yards shy of reaching 1,000 yards. His 5 TDs was a career high and he tied a career high with 65 catches.
"Really for Corey, it's just kind of what words did we change here that probably is a little bit different than in Tennessee," LaFleur said. "But a lot of the route stems and all that kind of stuff are the same thing. So, I think he has a level of comfort getting here and getting going."
For Denzel Mims, the Green & White's second-round pick in 2020, LaFleur thinks he's similar to Davis in size and ability. LaFleur has also been surprised by Mims' size seeing him up close.
"You knew he was big but then when you get to him in person, he's actually a little bit bigger than even I thought," he said. "And then on top of that, he's looser. What I mean by that, he just looks like he has a wingspan of like Kevin Durant. He's got tons of range as long as that balls anywhere around him. I think for him it's just going to be that transition to the NFL.
"He just needs to work and get out there and put as many reps on tape to start to get adjusted to this game because he didn't have the offseason last year. Then he came in in training camp and was hurt so then he ended up missing the first part. He ended up having a pretty decent back half of the year, but I'm excited to work with him. He's eager. He's a really cool dude to work with. But he's just going to have to get out there and again, it's just going to be reps and just going and understanding the speed of the game."