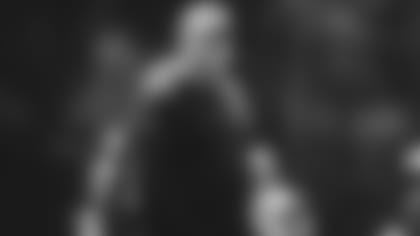 When opportunity knocked and Jets Head Coach Robert Saleh came calling, John Benton packed his bags and run-game schematics and moved 3,000 miles from San Francisco to New Jersey.
"I'm just excited for the opportunity to work with Robert and [offensive coordinator] Mike [LaFleur]," Benton said as the team wrapped up mandatory minicamp at the Atlantic Health Jets Training Center. "I see the situation the Jets have and it seemed like the right decision. We had a good friend relationship in San Francisco and this is a great opportunity for me. Adding all things together, it seemed like the right move."
The Jets and their beefed up, improved offensive line and enhanced running backs' room certainly expect to be productive in the wide-zone scheme Benton helped to institute, with great success, in the Bay Area. In Benton's four seasons in San Francisco (2017-20) as the offensive line coach, the 49ers produced the fourth-most rushing yards in the league, with top 10 rushing offenses in each of the last three seasons, including the league's No. 1 rushing attack in 2019 as they advanced to Super Bowl LIV. In that time, three running backs – Raheem Mostert, Jeff Wilson and Matt Breida – all averaged more than 4.4 yards a carry on at least 200 attempts.
After a couple of weeks of voluntary OTAs and the minicamp, Benton said: "I get the feeling that everyone's pretty excited about it [the wide-zone scheme]. It seems to be a good buy-in at this point across the board. The guys fit the scheme real well. I think they're excited to see where it can go."
He added: "On mixed-downs, first and second down, we're not in drop back mode near as much as maybe some other offenses. We're going to run the ball in play-action, which is much more linemen friendly."
With Mekhi Becton and rookie first-round pick Alijah Vera-Tucker likely to lock down the left side of the line, Connor McGovern at center, and depth on the right side that includes T George Fant, veteran guards Greg Van Roten and Alex Lewis and free agent Dan Feeney, plus a mix of experienced players and undrafted free agents, Benton (whose official title is offensive line coach & run game coordinator) believes in applying pressure on opposing defenses laterally to outflank them. It can help open up the passing attack via play-action, while also easing the pass-blocking stress on offensive linemen.
Benton brings a long and impressive résumé to the Jets, one that includes 33 years of coaching experience that dates to work as a graduate assistant with his alma mater Colorado State in 1987 before moving on to the NFL with the Rams in 2003. He was the Texans' offensive line coach from 2006-13, the Dolphins' offensive line coach from 2014-15 and Jacksonville's assistant offensive line coach in 2016 before joining the 49ers' in 2017.
On Vera-Tucker he said: "Very positive, we don't have pads on yet so there's a lot of boxes to be checked. But right now, he's been able to check every box. He's willing to learn the scheme. Impressive athletically and he seems to fit right in with the guys. He'll definitely be in the running, provided he passes the physical tests when we put the pads on. But all indications are good.
On Becton and questions about his weight: "I'm terrible at specific weights and will leave it to the performance people. The surprising thing to me is that he is a big, heavy man, but not disproportionate. Whatever weight he plays at best, I'm fine with both from a performance and injury prevention standpoint. When you're standing next to him it does regauge your system for what big and heavy means, and they're not necessarily mutually exclusive."