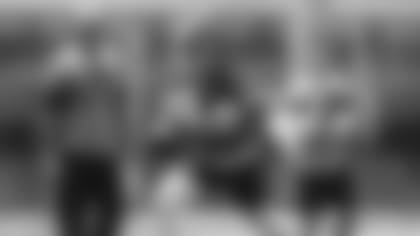 After the Jets' 23-14 victory over the Packers at Lambeau field on Saturday, first-year head coach Robert Saleh and the rest of Zach Wilson's teammates had nothing but praise for the team's rookie quarterback.
"His process is lightyears beyond a normal rookie," Saleh said on Saturday, reverting a bit into coachspeak.
On Monday's Zoom meeting with reporters, Saleh was asked to expand on his observation in terms the media and fans could better understand.
"When I talk process, I'm not necessarily talking about how he processes the game when the ball is snapped," Saleh said. "I'm talking about the way he goes about his day-to-day business and the way he studies tape, how he studies the night before, what he's doing and the things he's asking the video guys, the information he wants.
"Just from speaking from a defensive standpoint, I've been fortunate to coach some of the best linebackers this game has ever had. Those guys were swimming their first year and were grabbing at things to try and figure it out. This young man has a tremendous process on how he gets to gameday. It's that process that we trust, it's why he'll continue to grow and fix mistakes that he may have. That's why we talk about how his process is phenomenal.
"Now, the result might, gameday might happen and be like, 'Damn, he hit the wrong wall.' But what we trust is that he's going to be able to reset on Monday, go through that process that he has, and find ways to get better from the week before. That's where we're really, really excited about him. Sometimes the result on gameday is going to be phenomenal, sometimes it's going to be a big dud but, we trust that those duds are going to be fewer and further in-between."
J.T. Hassell Makes His Case
Safety J.T. Hassell wasted no time making an impact at Green Bay on Saturday.
The third-year player out of Florida Tech got a shot at some significant playing time because of injuries to Lamarcus Joyner and Ashytn Davis. And he made the most of it.
On the first play of the third quarter Hassell forced a fumble when Green Bay's Patrick Taylor ran off left guard for 6 yards. Rookie linebacker Jamien Sherwood fell on the ball at the Packers' 35-yard line, leading to a 46-yard field goal by Matt Ammendola.
"We had a great game offensively and defensively," Hassell told Eric Allen in an interview for "Jets 360." "I want to thank the coaches and everyone for believing in me. I'm growing every day, practicing hard."
Taking 18 plays on defense (29%), and 2 on special teams, Hassell put together a strong statistical game: 5 tackles, 1 sack, 1 forced fumble. He did not have to defend against any passes in the second half.
"Walking onto the field I was just thinking about my nonprofit foundation, thinking about the kids and going out there and playing for them," said Hassell, who was born with only two fingers on his left hand. "On the play (forced fumble), I saw him breaking up in the middle. I knew I had to close fast. I saw the ball, I hit the ball and it came out."
Hassell played in three games for the Jets in the 2020 NFL season. He made an auspicious debut, against the Rams, blocking a punt that led to a field goal in the Green & White's first victory of the season. The Jets' reserves had three takeaways in their win over the Pack.
Reflecting on the team's time in Green Bay, he said: "The ball was alive this week, that's the object to get the ball and create turnovers. We have a lot of young and talented guys, not just talented, but hard working and dedicated."
Folorunso Fatukasi Eager to 'Get Things Straightened Out'
Head coach Robert Saleh wasn't the only one concerned about the play on defense at Green Bay, particularly on third downs. In the game, the Packers converted on 8 of 14 third-down plays (57.1%).
"Third down is very important for us, for every defense," DL Folorunso Fatukasi said. "We'll have to go back home and look at film and see where we can get things straightened out on that."
For the Jets, that concern crystallized after the Packers put together a 19-play drive that covered 81 yards and took 11:33 off the clock. On that drive, Green Bay converted six times on third down as the home team took a 14-10 lead.
"It comes back to third down," Saleh said. "Obviously, we want to be better on first and second down and stay ahead of the sticks. You look at those third down opportunities and winning one-on-ones on the perimeter; that's third down. That's life in the NFL."
While the Jets' defensive line will have to adjust without Carl Lawson, the DE signed in free agency who is out for the season after rupturing his Achilles tendon, the D-line should be bolstered by the return of Quinnen Williams during practices this week with the Eagles.
"Honestly, losing Carl took my breath away," Fatukasi said. "He told us to keep our standard high, to keep performing. We're very excited to have Q back. He's excited to be back, he's ready to get going, he's excited to be with us and we're excited to have him back."