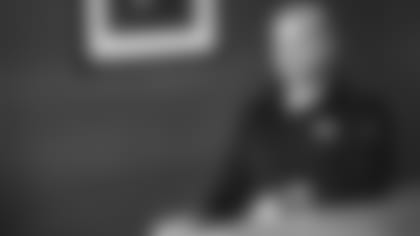 Meet Robert Saleh, the Jets' new leader. You could call his task with the Green & White "The Coach's Gambit" because the cerebral Saleh is a coach in a fast and physical game. He's also a strong chess player, perhaps not Grandmaster-caliber, but he has a rating that falls a bit below an "expert" ranking.
"I think it's good any time you can put yourself into a strategic mindset, and obviously football is the ultimate game of strategy," Saleh said last week. "And you can scheme your connection with players. There's a slow type of game with chess, then there's speed chess, being able to do both, I enjoy both.
"I do think there's a correlation in how the mind works and how the mind thinks and how it makes decisions, and how the speed at which it can work under duress. Is it the only thing. I do enjoy the game and I do think there's a correlation with how the mind thinks."
Saleh began playing chess, with his brother David, when both were youngsters at home in Dearborn, MI. Neither had any formal training in the game.
"He's very, very meticulous, very methodical," David Saleh said of his brother's approach to the game in a 2017 article in The Sacramento Bee, which was published when he was hired at the 49ers defensive coordinator. "He really thinks everything out. We don't like to lose to one another. Sometimes you wouldn't let the other get up from the table unless we played again."
Expert chess players carry ratings between 2,000 and 2,199. Robert Saleh, for all his prowess on the chess board, admits he's good, but not that good.
"I got to around 1,800, which is pretty good, but I'm no chess Master," he said. "I'm pretty good, but to say I'm an advanced player, probably not."
For Christopher Johnson, First Impression: Impressive
Jets Vice Chairman Christopher Johnson said he took an instant liking to Saleh during their initial interview, even though the relatively impersonal virtual environment necessitated by the coronavirus pandemic.
"When we met with Robert, I was struck by his presence," Johnson said. "He displayed an ability to engage with us in a virtual interview. He also clearly communicated a vision of this team that aligns with ours. When we met in person, it validated everything we believed following our initial meeting. Robert has shown through his journey here that he is a leader, one that will engage the entire team and will partner with [GM] Joe [Douglas] to continue building the culture of a winning organization. He has consistently demonstrated the ability to innovate, motivate and collaborate.
"His character and passion are what this team needs."
Saleh said the feeling was mutual from the get-go.
"When you meet Christopher Johnson, he's such a genuine human being," Saleh said. "He displays an incredible amount of humanity. He has a tremendous amount of passion to get the organization moving in the right direction. You can feel the authenticity, the heart to do it right and the ability to listen to different ideas. It's people that make things work and it starts at the top with Christopher Johnson, Joe and [team president] Hymie [Elhai], some of the best people I've been around. I've seen this formula work, and it's clear this organization is going in the right direction."
With the return of Woody Johnson, who recently served as the U.S. ambassador to Britain, as the team's chairman, Christopher Johnson will assume the title of vice chairman. And the organization's flow chart has been tweaked, with Douglas reporting to the Johnsons and Saleh in turn reporting to Douglas.
Saleh 'Loves' Quinnen Williams
If there's one thing a defensive guru knows, it's how to recognize a stud on the defensive line.
"I absolutely love Quinnen," Saleh said. "I'm really excited to get the seat belt off of his harness and let him go. In this scheme to get him going vertical, to get all that mass moving in the direction that he needs to go, I'm really excited about the potential that he's going to have. I loved him coming out [of the University of Alabama].
"Obviously, we took [Nick] Bosa. He [Williams] was right there as part of the discussion. I can assure you of that. With regards to that young man, his mindset, his athleticism, his power, his love for football, I'm really, really excited to see him in our system, especially up front with the way we design with that attack style up front."
Williams, who completed his second campaign with the Jets, had a breakout season. In 13 games, Williams led the team with 7 sacks and 10 tackles for a loss. In addition, he had 3 passes defended and forced a pair of fumbles.
"That kid is special," Saleh said last week. "He's a game-wrecker. He's somebody you have to game plan against to keep him at bay, and, obviously, it gives the other 10 guys an opportunity to excel just because of the focus that he's going to garner.
"Obviously he's got to do his part and put in the work, but ... I can't wait to see what he does."
Coaches Coach, Players Play. There's More to It.
The term "players coach" is often bandied about like it's a given. It's not.
Saleh's takes a refreshingly candid view on what makes the coach/player connection more complex, yet more simple in a way.
"I believe coaches and players are in this thing together," Saleh said. "Players want two things from a coach. First, they want to know you care about their well-being. As a coach you make a personal investment in people. And two, can you help them make enough plays on Sundays for them to get paid as much as possible.
"You have to put yourself in players' shoes. They get drafted. They need a personal investment in them so they can get to that second contract and be rewarded. Players should expect that from their coaches and from their organizations. It's no different in the business world: Come in at entry level, work your tail off and get rewarded. It's the same mindset in football.
"Players are human. Make sure they understand that you want what they want -- to get them where they want to go."
Joe Douglas did not disagree with Saleh, adding that part of the bargain is holding the players accountable while setting expectations.
"A big part is what Coach Saleh has laid out about connecting on a personal level," Douglas said. "Engaging with these guys and creating the buy-in letting them know we're here to help them reach their ultimate goal. If you talk to people who have been around the best organizations in the NFL they're going to say the same thing to players. We develop you and our goal is for you to be the best you can be and maximize your earning potential. And if it's here, great and if it's elsewhere, great we're happy for you. That mentality will help us moving forward."
The Quarterback Question
Saleh and Douglas each have been complimentary of Sam Darnold, but they are not making any declarations about the QB position as the offseason begins in earnest.
"It's too early to set a timeline, it would be unfair to process, there are so many moving parts to the equation so many different discussions and evaluations that need to be made at every position, quarterback being the most important one," Saleh said. "To give a timeline would be unfair."
Saleh added: "We know what Sam has done, we know what people feel about him. We love him in the locker room, we love his talent. I'm excited to have any communication with him and being able to work with him making the best decisions for the organization."
Douglas, who is contemplating possible free agents with a chunk of money available under the cap, and a prodigious cache of draft picks, is similarly playing things close to the vest.
"The next step is to get together with him and his staff to go through every single position step by step and evaluate our entire team," he said.