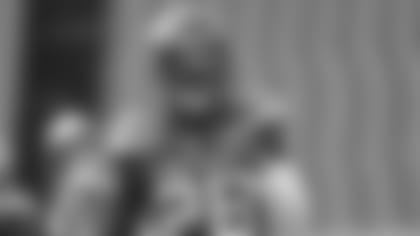 Injury Bug Bites Le'Veon Bell and Blake Cashman
RB Le'Veon Bell (hamstring) and ILB Blake Cashman (groin) are likely to miss next week's home opener, against the defending NFC champion San Francisco 49ers, Head Coach Adam Gase said.
"They're soft-tissue injuries and we could be looking at a couple of weeks," Gase said. "But I don't want to put a timetable on it."
Cashman, a second-year player out of Minnesota, went down on Buffalo's first offensive series of the game and did not return and was replaced by Harvey Langi. Bell saw time as a receiver including a 30-yard grab on a sideline pass from Darnold late in the second quarter. A few plays later, Bell was breaking past AJ Klein, who reached out and caused Bell to lose his balance and fall awkwardly as a Darnold pass fell incomplete.
With Cashman likely to miss time, Gase said that Avery Williamson, who missed the game with an injury, would be evaluated as the week progresses. The coach added that the team's personnel staff is working to see who could be brought in, if need be.
Referring to Bell, Gase said: "We talked after the game. For me with him, I just know what kind of shape he's in and his work ethic and the way he finds to play through injury. I wouldn't be surprised if he comes back quicker than anticipated. But I don't want to say because then he would say 'why did you put me in a box.'"
Sam Darnold: My Timing Needs to Be Better
Regardless of the reasons -- no preseason games, new personnel, missed opportunities -- Sunday's 27-17 season-opening loss at Buffalo was a combination of self-inflicted wounds and flawed execution that has left the Jets and QB Sam Darnold committed to getting things right.
"We just have to do better, it's that simple," Darnold said during a conference call with reporters on Monday. "We've met as a group and talked about it and feel they are fixable mistakes. And that's a good thing. For me, I think my timing needs to be better. I did hurry some things and feel that at the beginning of the game I have to relax, take a deep breath and throw it in there."
From the opening kickoff at Bills Stadium, the prospect for a fast, soaring start evaporated as the Jets instantly incurred a penalty and found themselves backed up on their own 9-yard line. As the Jets went three-and-out three straight times, the Bills were able (after Marcus Maye forced a fumble on one series) to build a 21-0 lead. During that string of three series without a first down, Darnold appeared to be tentative, impatient and out of synch.
"I kick myself a lot for missing throws, three in a row, that I usually don't miss," Darnold said. "For me, it's the little things, playing slower and quieting my feet down. These things are fixable. That's really it."
Over the past two seasons, Jets coaches have worked with Darnold to get his mechanics more in tune, to make sure his torso and his feet are pointed in the same direction. Asked if that remains an issue, Darnold admitted he remains a work in progress in his third season in the NFL.
"I think it's just tying my feet to my eyes," he said. "I was working on it this offseason. It's a matter of just going out and doing it in a game. It's really as simple as that." He added: "It's just me missing throws. I look at the tape and I know where it's coming from. My feet need to be aligned with my eyes, and my footwork. That's really it."
The slow start cost the Jets dearly. Darnold said he began to feel more comfortable late in the second quarter, during a two-minute drill that led to Sam Ficken's 31-yard field goal. Overall, Darnold completed 21-of-35 passes (60%) for 215 yards (with a chunk of those yards coming on a 69-yard scoring pass to Jamison Crowder), with 1 TD and 1 interception.
"We left way too many yards out on the field on Sunday," he said. "We have a really good group, guys who can go out there and make plays. The offensive line played well, we just gotta put it all together. When we do we're going to start having success."
Rookie Mekhi Becton and Offensive Line Stood Tall
The Jets' reconstituted offensive line turned in a strong performance in front of Darnold.
"There was some really good stuff there," Gase said. "Some plays in the running game there were just technical issues. We were only a little bit away from popping a couple of runs. Protection-wise, they did a good job with communications. Sam had some passes where he was able to hang in the pocket. Last year it felt like a constant avalanche, but our guys did a better job of giving Sam some time."
The O-line allowed three sacks for 13 yards, but considering that LT Mekhi Becton (a rookie), LG Alex Lewis, C Connor McGovern, RG Greg Van Roten and RT George Fant were playing their first game together, the performance and the reviews were solid.
Speaking about Becton, McGovern said: "I think he played well. He's going to have rookie things here and there. But from the rookies I've been around, he had a pretty good first game. He's smart and he's willing. He wants to be great. If you have that size (6-7, 363) and want to be great, there's no doubt he's going to be successful."