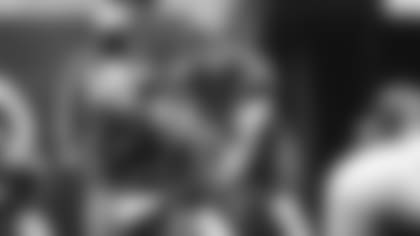 The Jets remain in a holding pattern when it comes to the status of QB Sam Darnold (shoulder) ahead of Sunday's game against the visiting Miami Dolphins.
Joe Flacco played the last two games after Darnold aggravated the injury against Kansas City that he first sustained back in October. In all Flacco has started four games this season.
Who plays on Sunday? Stay tuned.
"For me it's one day at a time still," Darnold said on Monday. "The shoulder feels good throwing, I'm doing what I need to do. Now, it's just about getting hit and seeing how it responds. I have to be careful, but it feels good."
Darnold will return to the practice field with his teammates on Wednesday. And while Head Coach Adam Gase said he's confident in Darnold's ability to throw and connect on passes, his concern is about his quarterback's ability to withstand being hit and jamming the right shoulder into the turf.
"I'm going with what I'm hearing from the trainers, the doctors and him," Gases said. "It's not me making the decision. This is a group effort to make sure we're doing right by him. Obviously he wants to get back out there again.
"The only thing I can't predict ... I wish I could tell him he won't get hit, driven into the turf and hurt the shoulder. I can't predict that. It sounds like he's moving in the right direction, but this is part of the game that I can't control."
For his part, Darnold said he is eager and champing at the bit for a chance to play with a full complement of wide receivers in Jamison Crowder, Breshad Perriman and Denzel Mims -- a threesome that has only gained full health in Darnold's absence.
"Those guys are doing really good now making plays for us," Darnold said. "Regardless of their situation I just want to be out there. I always want to go out there and play football."
Mims Is Turning Heads
The numbers (3 catches for 71 yards) may appear to be modest, but make no mistake that rookie WR Denzel Mims has, in a short time, provided a hint of only good things to come.
"I hate saying this, but we can play what-if a bit," Adam Gase said. "We would have loved an offseason camp, a full training camp to see what it would look like. He's getting better fast. He's coachable, asks questions, makes mistakes but learns from them. He's only going to get better. He does have some kind of swagger, a confidence about him. We're not afraid to go to him when it's time in the game."
That time on Sunday against the Chargers was in the second half (none of the Jets' three starting WRs caught a pass in the first half). For Mims, that was nothing out of the ordinary since he hasn't had a catch in the first half of brief NFL career. This time, however, his three catches helped the Jets force their way back into the game.
Strong, lean, tall and speedy, the second-round draft pick out of Baylor made a key third-down grab late in the third quarter that led to a TD. He drew a pass interference call that put the Jets into the red zone as the Jets cut the deficit to 34-19.
"It feels good to be back out there and help my teammates," Mims said. "As far as throwing to me in the fourth quarter, I'm proud they are throwing to me. It shows they have a lot of trust in me, and I'm kind of thankful. But I have to get better at a lot of things. I'm going to continue to work."
In the fourth quarter, he came up big on two more plays. On fourth-and-five with the Jets at their own 30, Mims caught a 25-yard pass to keep the drive going. On third-and-7 from the Chargers' 42-yard line, Mims made another catch on the sideline. That led to a Flacco-to-Herndon TD pass.
"I think it's always tough, especially for a guy like him who was not able to get a ton of practice under his belt, those are reps he'll never get back," Joe Flacco said. "It's valuable for a young guy, huge for him to get some game action and have the ability to be in position to make some plays. He's big and able to go up and use his speed. He's getting better and better each week."
Herndon Comes to Life
TE Chris Herndon endured a dropped pass early in Sunday's game. And the immediate thought was here we go again for a skillful player who is considered an important part of the Jets' offensive attack.
But Herndon blocked out the questions and the miscues to have a strong game against the Chargers. He may have had only two receptions, but one was for a TD and the other was an impressive, twisting grab over the middle on a pass from QB Joe Flacco.
"We're struggling as a team," Flacco said. "It all kind of goes together. He [Herndon] has a lot of ability, but when you're on a team that's struggling to put it all together there are a lot of battles you're having with yourself. Not a lot of guys have had a ton of opportunities to make plays. When you're pressing, sometimes it doesn't end in a good outcome. The more we get him involved, the less he'll feel the pressure to make it happen and things will start coming to him."
Herndon, who missed a chunk of last season, had a strong training camp and was seen as a linchpin in the offense. But those expectations were put on hold most of the season as the Jets dealt with injuries and searched for an elusive victory. Through 10 games, Herndon has been targeted 27 times and has 16 receptions, fourth on the team, for 133 yards.
"We're really hopeful he can build on that game," Adam Gase said. "I hated to see him drop that first throw to him. Going back and watching the film, he didn't turn his head. He was trying to look it in, and I thought he had some room to run. To see him make the one crossing catch with the linebacker in his face was big play in the game. To see him have success knowing how hard he's been working, to see him doing everything right, to see him have success is a big positive for us."
Injury Update
Adam Gase said that rookie RB La'Mical Perine, who scored one of the Jets' four TDs on Sunday, has a high ankle sprain. It's an injury that usually causes players to miss time. ... OL Chuma Edoga has a low ankle sprain and is expected to practice this week. ... OL George Fant "is working through a knee and ankle sprain," Gase said, and will be evaluated as the week progresses. Fant was scheduled for an MRI on Monday. ... LB Blake Cashman (hamstring) is expected to practice this week. ... WR Chris Hogan and CB Bradley MacDougald are eligible to come off Injured Reserve, though Gase is taking a wait-and-see approach on each of them. ... After K Sam Ficken (groin) returned to action and missed two extra points on Sunday, Gase said that "we'll be talking through kickers the next couple of days." Ficken missed two games (right groin) and was ably spelled by Sergio Castillo.