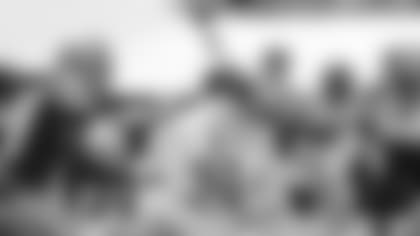 The message, though, from QB Sam Darnold on Monday: "I've been saying this to the guys in the locker room ... no one is going to back down to the challenge."
Darnold added: "We need to do less talking and more action."
The next challenge for the Jets (0-2) comes Sunday at Indianapolis (1-1) and Darnold might have to adjust yet again. His roster of wide receivers has been in flux because of injuries since the start of training camp and now starting center Connor McGovern, who left Sunday's game with an hamstring injury, was called "week to week" by Head Coach Adam Gase.
"The guy wants to try and see if he can go this week," Gase said.
If McGovern, who signed as a free agent in the offseason, can't go, Darnold will take snaps from Josh Andrews, another free-agent acquired by General Manager Joe Douglas.
"It will be Josh unless something changes between now and Sunday," Gase said. "He's been in this league [now in his fifth season, two with the Eagles, two with the Colts]. He's a smart guy who knows how to play the game."
In addition to McGovern, one of Darnold's targets – wide receiver Breshad Perriman -- has a sprained ankle and could miss a game, possibly two, according to Gase. When asked about Darnold's go-to wide receiver, Jamison Crowder, who missed Sunday's loss against the 49ers, Gase said that he did not "have a great answer" on his status.
"We just go back to work guys we have that are healthy and get those guys playing as well as we can," Gase said. "We have to find ways to improve each week. This week we did some things better [than in Week 1 at Buffalo], but not enough, obviously. We have to apply what we've learned from week to week and get ourselves into position to win the football game on Sunday. We've got to clean things up during the week and apply them on Sunday."
The absence of Crowder, and then Perriman's injury left Darnold with three healthy wide receivers in Braxton Berrios, Chris Hogan and Josh Malone.
Maye Critiques the Defense
S Marcus Maye had a strong game in the Week 1 loss at Buffalo, but he and the entire defense struggled at times in the 31-13 loss to San Francisco.
Besides allowing an 80-yard TD scamper by Raheem Mostert on the first play from scrimmage, the Niners victimized the Jets on a third-and-31 run that went for 55 yards. Maye saw tight end Jordan Reed snatch a pair of passes that went for TDs.
After two weeks, Maye said that the defense was "not up to par, it's not what we preach," as San Francisco amassed 182 yards rushing and 202 yards passing.
"We've just got to show up everyday with a positive attitude," Maye said. "No matter the outcome, this is a new week. We got to get on the grass and improve everyday."
Missed Opportunities
The Jets' failure to capitalize on scoring opportunities against the 49ers was costly, particularly the fourth-and-1 play from San Francisco's 20-yard line in the second quarter with the outcome still up for grabs.
Gase called for an off-tackle run by Josh Adams that went for no gain because of unblocked linebacker Fred Warner, turning over the ball to the Niners.
Asked if there was an option for Darnold to call an audible and try a quarterback sneak, Gase said that Darnold, "didn't have the freedom to call a sneak." Gase added: "It's my call. If we execute the play it's a first down."
Darnold said: "On that specific play I don't have the option to do that [call an audible]. We have to execute the play. If we do we have a first down and no one is talking about it. If we do that we put the ball in the end zone."
Zoom-Ba
The pandemic has wrought myriad changes in the world of professional sports in the United States. From empty stadiums and arenas (every sport), to quarantine bubbles (NBA, WNBA, NHL, Major League Soccer and the National Women's Soccer League), to truncated seasons (Major League Baseball).
In this most unusual of NFL seasons journalists chronicling Jets regular-season home games, welcome to the virtual lockerroom via Zoom "meetings." (A similar setup was used in August for the Jets' Green & White scrimmage.)
After Sunday's season-opener at MetLife Stadium, reporters had their choice of Zoom-ing into Podium A, Podium B or Podium C (even for those reporters who staked out their normal spots in the stadium press box). The simultaneous press conferences were a challenge but provided ample comments from Jets players after the loss to San Francisco.
On Podium A: Head Coach Adam Gase and QB Sam Darnold.
On Podium B: WR Chris Hogan, OLB Jordan Jenkins and DL Quinnen Williams.
On Podium C: WR Braxton Berrios and RB Frank Gore.
In the Before Times, make that the 2019 season, reporters shuffled into the stadium's main interview room to question Gase and Darnold, then scrambled into the locker room to speak with the players.
'A Crazy Year'
After playing both games so far this season where spectators are barred from stadiums, Jets offensive lineman George Fant said it has "been weird."
"You know, this is a crazy year for the NFL and for the world in general," Fant said. "It's been weird the last two weeks with no fans at all. It's definitely different. You have to bring our own juice, stay in the game and bring energy wherever we go. That's all we can really do. I think the NFL is doing a great job with testing. Teams are staying responsible. It's a good thing and we have to keep doing that."
See the Top Photos from the Week 2 Matchup Against San Francisco