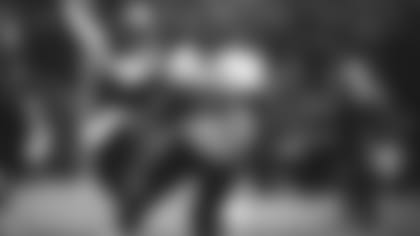 Two of Jets' head coach Robert Saleh's key assistants — the fresh-faced offensive coordinator Mike LaFleur and the bearded (green Jets cap on backward) defensive coordinator Jeff Ulbrich — met with the media during the team's recent minicamp and provided updates on their respective units.
LaFleur Likes the Tight Ends' Professional Approach
LaFleur, of course, was peppered with questions about rookie QB Zach Wilson. He also spoke extensively about some of the guys Wilson is likely to be collaborating with -- including the tight ends -- with a specific focus on Chris Herndon and Trevon Wesco (now the team's fullback), and a nod to free-agent WR Keelan Cole.
"They're all competing," LaFleur said of the TEs. "It's a cool group because there's a good mix of a little bit of youth but also a lot of guys that have played a lot of football. Griff [Ryan Griffin], [Tyler] Kroft, and Herndon going into his fourth year, and obviously Wesco. It's a group that, they're pros. They approach it the right way, they're prepared. You just know what you're going to get from them. Every single day, it's not like they have ups and downs."
LaFleur said that he first encountered Wesco (6-3, 267) at the 2019 Senior Bowl, where he played the tight end as a fullback. As part of the 49ers staff, San Francisco used the fullback position more than any NFL team. Kyle Juszczyk started 51 of his 58 games with the 49ers from 2017-20, leading all fullbacks with 1,918 snaps played over that span (33.1 per game).
"I got to know Wesco before I knew any of these guys from our Senior Bowl, where we played him a bit at fullback," LaFleur said. "You like to have a fullback. You like to be in those traditional 21-personnel formations, it just keeps the defense balanced a little bit more. You can go lead their way so you can control the angles, particularly in the run game and obviously all the play passes that come off of it. Juice [Juszczyk] was the traditional fullback.
"He's [Wesco] a very confident dude, he loves being out there and yes, he is our fullback right now. Is he going to do all the same stuff that Juice could do? Probably not. Is he going to do some stuff that Juice couldn't do? Absolutely. He's a bigger body, he's longer. He's going to be able to play a little bit more inline, so we can use him in multiple ways, whether it be 21 or your typical 12 personnel formations. So, he's embracing it."
LaFleur's tight ends' room is crowded. The signing of Tyler Kroft (6-6, 262) adds a strong blocking TE. If there is an incumbent, it's Herndon (16 games, 31 catches for 287 yards and 3 TDs) who experienced a difficult 2020 season and who is learning his third offensive system in four years.
"Obviously, it was documented last year just how he came on toward the back half [14 catches, 143 yards over final three games] and had a good rookie year [16 games, 39 receptions for 502 yards and 4 TDs] that put him on the scene," LaFleur said. "He's a talented dude. He missed a little bit of time, but it'll be huge for him when he gets back and rehears this system, talk to him again and gets in there with pads and we're out there in those unscripted periods where he has a chance to go out there and make those plays."
On the outside in the passing game, LaFleur's offense is certain to benefit from the free-agent signings of Corey Davis and Keelan Cole, plus Jamison Crowder and second-year man Denzel Mims, plus highly regarded rookie Elijah Moore. Cole, signed from Jacksonville, saw time with the starters during minicamp.
"Keelan has played in this league." LaFleur said. "He had a really good rookie year and he's had three pretty solid years after that. He's going to be a little goofy at times, that's cool, that's who he is, that's who we want him to be. He's out there making plays. I know, for me, every time he's out there you just feel like he's going to get it done in his own little way. It's a unique way, but he's very confident in himself and I know we all are as well."
Ulbrich Dishes on Cornerback Growth
The Jets' cornerbacks room is well-populated and it's a work in progress. In addition to the returnees (including Bless Austin, Bryce Hall, Javelin Guidry and Lamar Jackson) the team signed free agent Justin Hardee (New Orleans), drafted three players (Michael Carter II, Brandin Echols and Jason Pinnock). But one guy who's caught Ulbrich's attention is undrafted free agent Isaiah Dunn (Oregon State).
"He's a guy that has grown every day," Ulbrich said. "He's one of those guys that we thought would get drafted. We definitely contemplated drafting him toward the end and were surprised when he wasn't. So, we were ecstatic to get him here, especially as a UFA. That's a guy that makes strides every day and he's making a push to not just make this team but potentially play and contribute."
On Hall: "He's a guy that has length, he's got a great brain and he's got a thirst for the knowledge of the game. He's a guy that has the callus on his finger from taking notes. Could Bryce be the starter? Absolutely he could, but we're far from that."
On safeties Marcus Maye, Lamarcus Joyner and Ashtyn Davis: "I think the three of them, it'll be a good group. I think that Lamarcus is unique, the fact that he can go down and he can play on receivers in a man-to-man capacity, that's hard to do for a safety body. I think the experience of playing nickel in Vegas with the Raiders, that's going to be huge for us. I know it's the Lamarcus and Marcus show but, I would see Marcus more in the versatility mode. He can play it all, he's got the body, the size, he's got the physicality to be a box player for us, for sure."