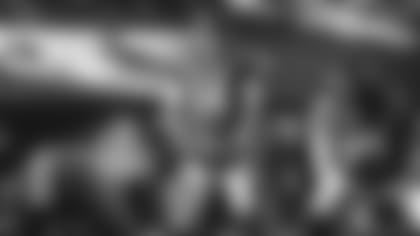 In the face of adversity Jets quarterback Sam Darnold is committed to an honest assessment of where he's been, where he is and where he wants himself and the team to go.
"I've got great coaches and teammates to be able to learn and talk about the game and what we could have done differently, what went wrong and how we can fix it," Darnold said on Monday, a day after the 20-3 loss to visiting Miami. "Those are the guys I depend on the most. For me, it's about going back into work and correcting mistakes I made in the game and the why behind everything. Why did I do that? What did I see and how can I get better? Today I have peace of mind, that I can get better, learn from it and grow."
After missing two games (New England and at the Chargers) with a right-shoulder injury, Darnold returned to the lineup against the Dolphins. Playing for the first time with the three receivers -- Breshad Perriman, Jamison Crowder and rookie Denzel Mims -- who were expected to be in the vanguard of the Jets' attack, Darnold owned up to enduring a difficult outing that included two interceptions.
"I mean every single day I need to come in with a worker's mentality," Darnold said. "Make sure I'm doing everything everyday to put the team and the offense in a good position to score TDs and win a football game. That's all I'm focused on."
During Monday's conference call Head Coach Adam Gase was asked if he has, or is contemplating replacing Darnold with the veteran Joe Flacco, who started five games this season while Darnold was out injured.
The HC was emphatic and unbending.
"Sam's the starter," Gase said. "We need Sam to play as many plays as possible and we will keep working every week. He's very competitive and wants to do well. He's looking forward to this next game [against visiting Las Vegas on Sunday].
"I think, obviously, any time you go through anything like this it can easily get to the point where it can affect you as a player, as a quarterback. He's done a good job talking through things on Monday when we wipe the slate clean and prepare for the next opponent. He's working to try to be a part of the solution. I don't see his attitude changing. I know it can't be easy for him. Any time you're a quarterback, you know that between the quarterback and the coach, everything's on you."
'Q' Answers the Call
Early in November, before the NFL's trade deadline, there was scuttlebutt going around that the Jets were shopping DL Quinnen Williams.
General Manager Joe Douglas quickly put the kibosh on the reported chatter. And now, with Williams emerging as a monster in the middle of the defensive line, any notion of No. 95 not being a part of the Jets' future seems illogical.
"I don't want to say he's been the most impressive, but he's had a good amount of them [strong performances] this year, you can definitely see improvement throughout," Adam Gase said, speaking about Williams on Monday. "In the beginning of the year he wasn't as consistent. But man, the middle part of the season he's really been showing up a lot, be it TFLs or pressure on the quarterback. He's playing his ass off right now."
On Sunday against the Dolphins, Williams, the No. 3 overall pick in 2019 out of Alabama turned in another superlative performance. He led the defensive line in playing time with 52 snaps (73%) and had 1.5 sacks, 3 QB hits, 2 pass defenses, 1 tackle for loss, and 1 forced fumble. He added 7 total tackles (4 solo).
"You've just got to go out there and do your job," Williams said after the game.
The unit overseen by defensive coordinator Gregg Williams did its job against Miami, sacking Ryan Fitzpatrick four times and forcing a pair of fumbles on back-to-back Dolphins possession that could not be turned into points by the offense.
"It's not really frustrating," Williams said. "Honestly man, we don't play offense. We can't do the things those guys do. ... I can't really say anything about the offensive side, but the best I can do is put this team into a win is to execute my job, do my job."
In 10 games this season, Williams leads the Jets with 5 sacks for 35 yards, 11 TFL, has 22 solo tackles and 41 total (both numbers lead the DL), 3 PDs and 2 FFs.
"Take what you did today and move forward," Williams said about Sunday's loss. "I feel like for me and the rest of the defense, we're going to take what we did good and capitalize on that, and take what we did bad and make it better."
While Williams has emerged as a force on the Jets' defensive line, third-year man Foley Fatukasi has been a beneficiary of an emerging dynamic between the two young defensive linemen -- which augurs well for the future of the defense.
"I feel like I've grown a lot, and not in any one area," said Fatukasi, who had a sack on Sunday, his first of the season. "I've grown in understanding the game overall, I've grown in technique. I'm able to see certain things or take things others are seeing and I've been able to use it. As a player I feel like I've grown in this season a lot. Despite our record we still have a lot of guys who come to practice and find ways to get better."
The tandem on the defensive front is growing together and Fatukasi said that Williams is "first and foremost a great player."
"We both understand we have a lot of football to learn and we're excited about how much room we have to grow," Fatukasi said. "We understand it is an evolving game and there's something you can learn every time you're out there."