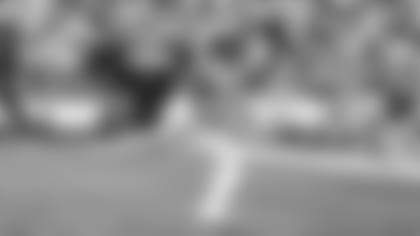 After sitting out the first three games of the season, Jamison Crowder was back on Sunday, and the Jets and Wilson were glad he was.
Crowder played 62% of the snaps on offense, had 7 receptions for 61 yards (a long gain of 29 yards) and a pivotal touchdown grab from Wilson.
"He played a phenomenal second half," the veteran wide receiver said about the rookie QB. "Everyone made big plays today. In this league, this is how games are going to be and you have to give yourself a chance to win the fourth quarter."
It was early in the fourth quarter, with the Jets trailing by a TD, that Wilson scrambled to recover his bobbled snap, set himself and found Crowder open on a crossing pattern. The 29-yard reception took the Jets to the Titans' 5-yard line.
"Honestly, I didn't know what happened in the backfield," Crowder said. "I just ran the route, and saw the ball coming my way.
One play later, Wilson's pass was a little behind Crowder, but he adjusted; and Matt Ammendola's extra point tied the game, 17-17.
"On the TD I couldn't see the quarterback and saw the ball coming and just made the play," Crowder said. He added: "We put in a lot of work this week, we saw we had a good opportunity and were able to get one and pull through."
JFM: 'We Had a Chance to Hunt'
The Jets' defense on Sunday played perhaps its most complete game so far in the 2021 NFL season, front to back, top to bottom.
"We love to be physical and this was a great opportunity for us," DE John Franklin-Myers said. "We knew they were going to run the ball and we did a good job stopping the run and got them into passing situations. And we had a chance to hunt."
Hunt ... as in chasing Titans QB Ryan Tannehill, taking him to the turf seven times, holding the visitors to 5-of-19 conversions on third down, Tannehill to 30-of-49 passing and "limiting" RB Derrick Henry to 157 yards without him breaking one for a long gain.
JFM had a strong game: a sack, a total of 4 tackles, 2 TFLs and 3 QB hits.
"They're giving me playing time on the edge," he said. "I get to beat up on the tight ends, set the edge, be physical, penetrate. All that type of stuff works to my skill set."
Looking ahead to play Atlanta in London on Sunday, he said: "We just play our style of football, the defense, we do our thing each and every week and the team goes as we go. Now we put this one to bed and get a chance to play next week."
RB Michael Carter Gets His First NFL TD
It was a day of firsts for a host of Jets rookies ... from Saleh, to Wilson to the Michael Carters, I and II, in the team's first win of the season.
While the young defensive backfield has continued to impress, it is the rookie RB from North Carolina who scored his first NFL TD and gained 38 tough yards on 13 carries.
"They told me the first one is the hardest," Carter said. "It means a lot."
Of the Green & White's RB attack (which includes Ty Johnson and Tevin Coleman), Carter played the most -- taking 51% of the 61 snaps.
"It just started with preparation through the week," he said. "We felt we would win the game. We had some productive plays. And Zach, we know what he can do if you give him time. We believe every week."
He also saluted the boisterous atmosphere at MetLife Stadium and energized fans.
"We know this organization hasn't won in a while," he said. "This team doesn't pay attention to that, we're just focused on winning every week."