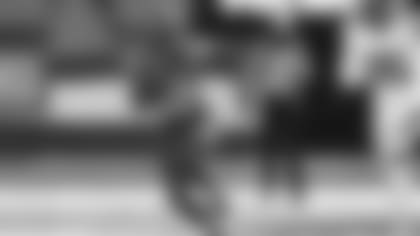 The Jets had a triple-threat player on the field against the Browns on Sunday by the name of Jamison Crowder.
He caught passes, he threw a TD pass and he ran with the ball.
"He's a great player," QB Sam Darnold said. "He's got such a great feel in space, zone or man breaking away from his guy. He was really good when I got here, and will be really good for a long time."
Crowder, who signed a three-year deal with the Jets in 2019, has one year left on his contract. Over the past two years, he has become Darnold's go-to receiver, usually working out of the slot.
On Sunday, he victimized the Browns for 7 catches for 92 yards and caught a 30-yard TD pass from Darnold. Perhaps the highlight, which came early in the game, was Crowder's 43-yard TD pass to Braxton Berrios. He also had 1 carry, an end around, for 14 yards. He's been among the Jets' most consistent players on offense, but he's also been one of the team's most closely under surveillance by the defense.
"I look at how Miami and New England play him, he's doubled every game," Head Coach Adam Gase said. "Teams that are unfamiliar with him take the chance by not doubling him and he ends up causing a lot of problems. Teams know we want to get him the ball. He's one of our best players getting positive plays and getting things rolling in the right direction. The only guy in the slot was probably [Wes] Welker when was in New England, a lot of people paid attention. Sometimes with the slot position people gloss over it."
Through 11 games this season, Crowder has been targeted 85 times, has 55 catches for 668 yards (12.1 per catch) and 6 TDs. In the past two games (Rams and Browns), Crowder has grabbed 13 passes for 158 yards. And he will probably finish the season perfect in another category: 1 of 1 passing for a TD, a QB rating of 158.3.
"For some reason, these last two weeks, things have kind of gone our way," Crowder said. "So we're just going to ride this wave and try to prepare for next week and hopefully get another victory."
Shakeup Sparks the Defense
The debut of Frank Bush as the Jets' interim defensive coordinator was not as he or his players had hoped.
In their first game after the dismissal of Gregg Williams, the Jets went to Seattle and were beaten, 40-3.
"That was the first game after all the changes," S Marcus Maye said after Sunday's victory. "Things were all up in the air. That was an embarrassing loss. I know it wasn't us as a team. We came back the next week, (got) back to work. The coaches did a great job, and we got results the last two weeks."
The word is that Bush simplified things, reduced the number of blitz packages and made some subtle tweaks to the defensive backfield -- using Arthur Maulet at safety and Javelin Guidry at nickel-- while getting a boost from strong play on the defensive line.
"He's doing a great job, getting us mentally ready, getting guys prepared," Mayes said about Bush. "He and other coaches are doing a great job relaying messages to the players. We definitely would have liked these wins earlier. But there hasn't been anybody not showing up. We got the W's with effort and attitude that have been there all year. We just found a way to put it together these past two weeks."
Each of the past two weeks, it has been the defense setting the tone and keeping the Jets competitive. The vibe is different -- and so are the results.
"I think Frank's done a really good job rallying the troops," Gase said. "Anytime you make changes it's not what people assume. These things have to get done as a group. Everyone has been working together. I feel like that side of the ball has been pulling together, and I think they've done a really good job working as a defensive staff."
Jetcetera
With Frank Gore (lung contusion) out for the final game of the season, rookie RB La'Mical Perine is certain to see more of the ball. Sunday's game was Perine's first back from IR, he had 9 carries for 30 yards. "He looked good," Gase said. "He did a good job. When there were holes, he hit them. He played violent and gave us a little explosion there. It would be good to see him carry the load." ... Darnold has not committed a turnover the past three games, the longest stretch of his NFL career. "It sounds obvious, but the more times you can end a possession with a kick, field goal, punt, point after, that's how you want to play the game. For me, I'm just doing everything I can to help the team win."
See the Top Images from the Week 16 Victory Against Cleveland