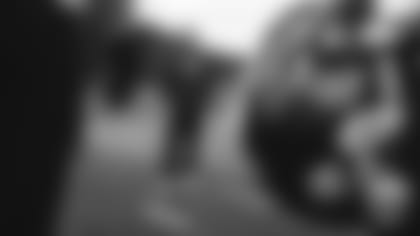 There's a football game to play on Sunday -- against the Atlanta Falcons in Tottenham Hotspur Stadium in North London -- and for Jets head coach Robert Saleh the redeye trip across the pond is, of course, about winning an NFL game. There are, however, other perhaps intangible benefits.
"Any time you're together with teammates, it's cool," Saleh told reporters during his outdoor press conference on Friday. "At home or on the road in the States, we get to play this game, show up to our facility and hang out and go through the grind together. This group actually enjoys being around each other, and I can say that I've been around some groups where that was not the case. But this group genuinely likes being around each other and they're embracing every bit of it. I'm excited to see the team grow."
Practice on Friday helped the players clear some of the cobwebs from the trip across the Atlantic Ocean and also get the juices flowing as the Jets (1-3) prepare to face QB Matt Ryan and the Falcons (1-3).
"The big thing [on the trip] is discipline," Saleh said. "I thought the support staff and everyone involved making this happen have been absolutely fantastic. They knocked it out of the park in terms of preparation. Now we have to stick to our plan, trust our performance staff. And if we do that we'll be bouncing off walls on Sunday.
Saleh said that on Saturday the team is scheduled to go to the stadium for a walk-through at the home of one of London's Premier League soccer teams.
"Extend the day, stay on our feet and get acclimated to the time change," he said.
Denzel Mims: 'I'm Grinding Each and Every Day'
Denzel Mims, the Jets second-round draft pick in 2020 out of Baylor, is part of the crowd in the team's wide receivers' room. The long (6-3) and speedy WR missed time during OTAs because of food poisoning ("I was throwing up every day," Mims said on Thursday before traveling to England with his teammates) and has seen his playing time curtailed with the arrivals of Corey Davis and Keelan Cole in free agency, the drafting of Elijah Moore, and the emergence of Jeff Smith as a solid special-teams player.
Mims has been inactive for two games this season, though he was on the field for 10 plays, all on offense, in last week's overtime win against Tennessee.
"It put me back a big step and in a big way," said Mims, referring to being absent for OTAs. "It's a completely different playbook, so I was behind compared to everyone else. I'm coming along. I'm getting there. I think I'm there, I'm ready, I've just got to continue to do everything I can to improve.
"I can't control their [the coaches'] decisions. The one thing I can control is my effort and my attitude, so I've got to do that. I've got to make sure I have a positive attitude and my effort's got to be great."
As a rookie last season, Mims caught 23 passes for 357 yards and was targeted 44 times in nine games. In the games he played, he averaged close to 49 offensive snaps and was on the field for more than 90 percent of the team's plays in five separate games.
While waiting his turn, Mims has kept his head down and continues to display a good work ethic.
"I would be upset if he wasn't frustrated, but he is a competitive young man, he's been fantastic throughout this whole process," Saleh said. "And he's been deliberate in practice, he's been working his tail off, and I think everyone kind of saw it in the game, Keelan [Cole] had explosive plays, Jamison [Crowder] had critical third-down conversions, a touchdown, and a big explosive play, [Braxton] Berrios is also involved in the kick return game, and then you have, obviously, Corey Davis.
"I'll never make a promise I can't keep, but if he's putting in the work the way he is, then he should be active. But it's not just the receiver room that he's competing against. There are the linebackers, the safeties, the corners, trying to get people involved and making sure that we're good at all three phases: offense, defense, and special teams. But yeah, he's been earning that right, so hopefully it continues."
Jetcetera
With Tyler Kroft(back) out injured, HC Robert Salehsaid that rookie TE Kenny Yeboahwill be elevated from the practice squad to the active roster for Sunday's game. ... Asked about the growing international interest in the NFL (a German reporter hinted at a game in that country next season), Saleh said: "I'm biased, I know European football is considered the No. 1 sport in the world, but I think [American] football is the top sport in terms of energy and passion for fans. To see it grow internationally, to see the interest ... it's a universal sport. The goal is to get this brand growing worldwide." ... Saleh on John Franklin-Myers, who was signed to a contract extension this week: "He's a stud. When we first got here and studied the players one of the guys who stood out was JFM. He's nothing but work, work, work."
See the Top Images from the Green & White's Practice Across the Pond Before the Week 5 Game Against the Falcons