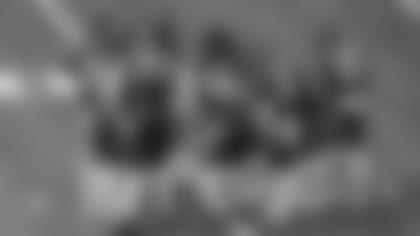 There is no sympathy in the NFL. No feeling sorry for the other team. And for the Jets, nothing will get any easier when they travel to the Midwest to face the defending Super Bowl champion Kansas City Chiefs on Sunday.
"We've got to play a really, really good team," Head Coach Adam Gase said on Monday. "They are one of the opponents you have to play outstanding, complementary football with all three phases working together. Defensively, we know what we're dealing with, with [Patrick] Mahomes and a ton of athletic, elite skill players. On offense we will have our hands full. They can create pressure quickly, can stop the run; on the back end, they like to get their hands on the ball. They're very disruptive. On special teams, we're dealing with an elite return team."
After losing in a shootout to the Raiders, the Chiefs got back to their winning ways, taking two straight and lead the AFC West with a 6-1 record. They are dangerous and able to strike like lightning on offense.
Is playing against the defending league champion provide extra motivation? Not according to G Greg Van Roten.
"I don't know about extra motivation," Van Roten said. "It's definitely motivating in and of itself. There are a lot of guys in this league, myself included, no one gave us a chance. I'm now in my ninth year. I'm not a big believer that you have no chance to win. Every time you line up you have a chance to win. You still have to play the game, make the plays and try your best.
"I don't think anyone is going to shy away. I'm looking forward to playing the best. It's a good way as a team to see what you're made of. Our record is what it is. This is a chance to play a really good team. If you can't get excited, if you can't find a way to get up for that game then there's something wrong with you."
Gase on Darnold
After the offense turned in a strong first half against the Bills on Sunday, the second half was deflating. The Jets had the ball for only 6:33, 16 plays and gained 4 yards. Still, they had a chance to tie the game late.
"It was really tough with a lot of bodies coming at him," Gase said. Darnold was sacked 6 times in the game and was under pressure in the final 30 minutes as the Bills adjusted and went with man-to-man coverage in the secondary.
"It started to get really muddy in the second half," Gase said. "They created a pocket push. Sam tried to make decisions quickly and we didn't have success doing that."
Asked if he sensed his quarterback's rising level of frustration, Gase said: "We talked last night [Sunday]. I just think he's 23 and none of this can be easy. He won a lot of football games in college [USC], but things haven't gone as smoothly in the NFL. It's a mental battle the majority of the time and it's can you survive the test. We see a lot of guys going through it now, there are a lot of teams with poor records with guys fighting the same battle. We have to stay the course, be great leaders and show guys the right way to do things. Getting frustrated or angry won't work. We have to show the way to act a certain way to bring guys along with us and find a way to turn the corner."
Asked to comment on the discussion, Darnold said: "The conversation was for me."
Injury Update
Gase provided an update on Jets injuries on Monday. He said that DL Kyle Phillips sustained a season-ending ankle injury against Buffalo. "It looked bad," Gase said. "There are multiple issues and he's out for the year. It's a long rehab process, but we should have him for next year." ... LB Jordan Jenkins is dealing with a rib injury, "but played through it," Gase said. Gase said he "should be ready to go" for the Kansas City game. ... WR Breshad Perriman remains in the league's concussion protocol, which must take its course. ... WR Jamison Crowder (groin) and kicker Sam Ficken (groin), both of whom missed Sunday's game, will be evaluated as the week progresses.
Jetcetera
After taking the lead in the first quarter against the Bills on Sunday, it was the first time since leading the Broncos, 28-27, in the fourth quarter of the Week 4 that the Jets have been ahead this season. When the Jets started their second drive against Buffalo they ran only their 10th offensive play with the lead. ... It was also the first time this season Buffalo was held without a touchdown; and it was also the first time the Jets lost without giving up a touchdown since a 9-6 loss to the Rams in 2016.