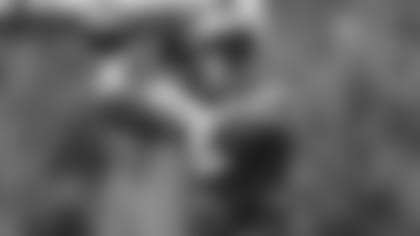 Jets general manager Joe Douglas and his staff were on a quest in the offseason to land a veteran quarterback. First there was a meeting with Derek Carr, who eventually signed with New Orleans.
Others were in the mix, but when Aaron Rodgers emerged from his "darkness retreat" and said he planned to play this season and expressed a preference for the Green & White, Douglas and his staff sprang into action, flying to California for an introductory meeting that impressed all in attendance.
"I think it started from the very first time that I had the opportunity to speak with him when we all went out to Malibu," Douglas said. "The word that I always use when I am asked about him is 'authentic.' He is a genuine, authentic person. Highly competitive, we all know how smart he is, but also a very authentic, genuine, caring teammate, and genuinely wants to build real relationships with people, not only teammates, but everyone in the building."
Rodgers has established quick and close bonds with his teammates on offense and on defense and has been a focal point of the HBO documentary series "Hard Knocks." His devotion to team, however, was raised to another level when he renegotiated his contract, thereby providing Douglas and his staff with flexibility under the NFL's salary cap.
"Really that conversation, that discussion is really emblematic of Aaron's entire time here, what he has done in coming here, and a truly unselfish thing that he has done," Douglas said. "It is really going to give us great flexibility and allow us to be aggressive if other opportunities present themselves.
"It is almost like an unspoken thing. You know if you are doing this, there is a reason why he is doing this. So, it is going to give us great flexibility."
Douglas said he has high expectations for the entire team, a savvy mix of veterans and young players. And although Rodgers will turn 40 late this year and is entering his 19th season in the NFL, Douglas said that he's seen a guy ready for a new challenge.
"The only scope I've seen of Aaron is 2023 Aaron," he said. "I see an unbelievable competitor, fiery. He wants to go out there and do a lot of damage. I love it. I feel like that back and forth that we've had at practice with the offense versus the defense and when we have the call it periods with Aaron calling plays, C.J. Mosley calling plays, they're just unbelievable battles. It's been fun to watch Aaron go at it against our defense. It's been really fun."
C.J. Mosley on Opening Night
The Jets will begin their slate of games in the 2023 NFL season on a night, Sept. 11, 22 years after an event that touched every American, but especially in the New York metropolitan area.  
"This is a big date," one of the team's recently elected captains said. "Obviously for our town, for this nation, but especially for New York, it's big for our team because it's our first game and it's against a division opponent [Buffalo]. And we go out there and try to put that first step forward and start off with a W, but none of that happens unless we do the things we have to do and control the things we have to control.
"There's going to be a lot of noise going into that game, our first time playing that night, officially, so we just got a lot of things to look forward to, but it's all about the opportunity and we just got to make sure that we show up for it."
Mosley's first game in Green & White, against the visiting Bills on Sept. 8, 2019, is of special note because the middle linebacker picked off a Josh Allen pass and returned it 17 yards for the game's opening score.
Bart Scott: 'Jets Were Built the Right Way"
From the get-go on an edition of "The Official Jets Podcast," Bart Scott, the Madbacker, was ready to roll. And he told Eric Allen that he has no patience for the haters as the Jets have become a polarizing target.
"This Jets season we mean business and I hope we can harness the inner Prime Time," Scott said, referring to the University of Colorado head coach, Deion Sanders. "I feel Jets this season are like Colorado — they want to hate you and they don't believe. But Prime made them believers [beating TCU last weekend] and I hope on 'Monday Night Football' that ARod [QB Aaron Rodgers] can silence all the haters and doubters.
"I've never seen a team, maybe since the second year of Rex [Jets former HC Rex Ryan] that hate us for no reason. I've never seen people go glass half-empty instead of glass half-full since we were the crazy hated loudmouths. [HC Robert] Saleh hasn't said anything, Aaron Rodgers has been the model citizen. Yet they hate anyway."
He wrapped up his rant, saying "Everyone is so optimistic about the Detroit Lions, a team that finished strong. The Jets were 7-10 and usually people are happy. The team is young and they bring in a four-time MVP and here comes the hate, for no reason. Not even the media, it's other GMs who say you can't build a team like this. There's correlation between Prime with only 10 players back from [last year's] roster. It's not like Jets haven't built a team the right way. They built it through the draft and made themselves attractive enough to be able to attract an Allen Lazard, able to attract [offensive coordinator] Nathaniel Hackett. No, they strategically built the team the right way and attracted a four-time MVP. And everybody's mad. What have the Jets said, they haven't boasted. He [Rodgers] came to the Jets and now everyone is upset."