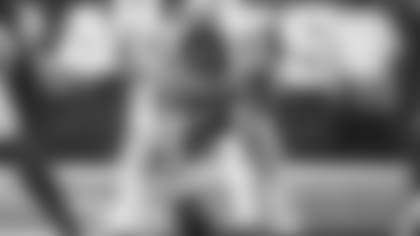 The Jets pulled out a hard-fought win against the Giants Sunday, 13-10, but it unfortunately came at a cost. HC Robert Saleh told reporters Monday that an MRI confirmed DL Al Woods sustained a season-ending torn Achilles and  C Connor McGovern (knee) and G Wes Schweitzer (calf) will be placed on injured reserve.
Saleh later added that McGovern is not expected to require surgery and the veteran center's injury was the "best case scenario".
"I think we are just going to try to get him some rehab and get his strength back for the back half of the season," Saleh said. "But it (surgery) may be something that he has to get as we progress. He's not out of the woods."
The team will explore opening T Duane Brown's 21-day window later this week. Brown went on IR with shoulder and hip injuries in Week 3. Additionally, they hope to get rookie OL Joe Tippmann back from quadricep injury he sustained in Week 6.
Improvements in Late Game Execution
After the Jets offense failed to come away with points in an end of half hurry-up scenario against Denver in Week 5, they got a second chance Sunday in the fourth quarter against the Giants. With just 24 seconds remaining, the Jets moved 58 yards in two plays before a Zach Wilson spike preceded Greg Zeurlein's game-tying 35-yard field goal.
A day after his club's overtime victory, HC Robert Saleh expressed admiration for the unit's ability to respond in the rain after the failure three weeks ago.
"It's something we work on every week," Saleh said. "Especially, after the Denver debacle, right? Before Sunday, there was just a reminder and just going over the rules and what needs to get done and credit to [Zach Wilson] and the urgency of the entire the whole operation. Credit to [Allen] Lazard to stay right where he was and to set the ball. Credit to [Xavier] Newman to sprint his butt down, grab the ball, look for the side judge just put the ball down before the ref so he could tap it, which saves us about a half a second to a second."
Against the Broncos, Jets TE C.J. Uzomah caught a pass inbounds and went down at the Denver 13-yard line with 8 seconds left in the half. The offense got back to the line but failed to spike the ball before the clock hit triple zeros. Against the Giants, Wilson completed passes to Garrett Wilson and Lazard and OL Xavier Newman, who took his first NFL snaps at center Sunday, got the ball set in time to allow Wilson to spike it.
"Credit to Zach (Wilson) and everyone just getting their feet in the ground and spiking the ball and the clock operator for having a quick trigger," Saleh said. "Just all of it was perfectly execute. That clip will be on the teach tape for many teams around the league and it'll be a teach tape clip at least for our offense, or for a lot of coaches for many, many years because you can't execute it any better."
Change in 'Mindset' for Bryce Huff
Jets DE Bryce Huff has continued to elevate his game this season, becoming an every-down defender. In Week 8 against the Giants, he tied his career-high for sacks in a season (3.5) while recording a sack in a third straight game. Huff said the key to his early success has been a change in mindset when rushing the passer.
"I am switching from instead of going against the man, I'm going after the quarterback," Huff said. "So instead of just burning an edge or hitting a cross hop or swipe, I've been playing to cater toward quarterbacks, so say it's someone who likes to escape up the middle, I'll play toward the middle, or if they like to escape outside, I'll just play toward the outside. So, I've just been working on rushing on the QB instead of just the man."
Huff is second on the team among defensive ends in snaps played (175) after playing just 191 snaps a year ago.
"I have definitely just been homing in on the details in practices and taking it to gameday," Huff said. "Just staying locked in and focused and executing our assignments and just really creating an identify for ourselves."