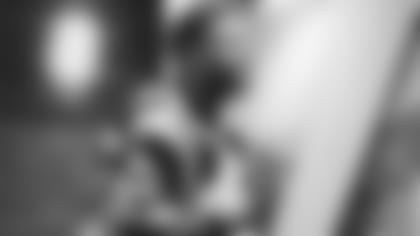 The Jets' new cornerback D.J. Reed has continued to defy the odds while keeping his California cool throughout his football career that began at Independence high school in Bakersfield, CA and had stops at Fresno State, Cerritos College, Kansas State, San Francisco and now New York.
After redshirting at Fresno State in 2014, he decided to transfer to Cerritos, a community college in Norwalk, CA, where he could not afford housing. He slept on a couch in a house with eight other guys. He transferred again, this time to KSU, and was later drafted by the 49ers in the fifth round in 2018. Three seasons later, he received his chance to start at cornerback with the Seahawks, which earned him a second contract.
"For me, I've always been confident," Reed said. "My story, I'm still writing it. Everything that's come up to this point is giving me even more confidence. God is showing me never give up, keep going DJ. I'm going to keep blessing you. I have the utmost confidence and that's really a big reason why I'm a good corner. If you're at corner and you're not confident, you're going to get beat. Even if you are confident, you can still get beat. Having confidence and believing in yourself just gives you a chance."
Reed first started for Seattle in November 2020, and started a career-high 14 games in 2021. In addition to his 78 tackles, 10 pass defenses and 2 interceptions, his 78.6 PFF grade ranked No. 7 among corners who took at least 50% of his team's snaps. His 51.5 reception percentage was tied for sixth. Opposing quarterbacks completed just 46.2% of their pass attempts when targeting Reed, which was the third-lowest among qualified corners and he had a 69.7 passer rating in his final 12 games of the season.
"I feel like I'm a CB1," he said. "I think it's obvious, but people look at my height [5-9] and say he's a good CB2. If you watch my tape from last year and the year before that, it's CB1. My stats compare to the All-Pros this year like Jalen Ramsey, A.J. Terrell, J.C. Jackson, my stats are right there with those guys. I'm going to take another step this year. I'd call myself a young veteran. I play smart because I know the game and I communicate and want to learn and I'm still learning, but on top of that, I'm only 25 years old, so I'm still young."
Reed may be making a coast-to-coast transition, but it should be seamless. He played under Jets HC Robert Saleh with the 49ers from 2018-19 when Saleh was the defensive coordinator in San Francisco. Now reunited with the Green & White, Reed plans to help out a unit that finished last in the league in total defense in 2021.
"It's pretty much the same scheme I'm coming from the Seahawks with," he said. "Cover 3, quarters, man, a little bit of everything to try and keep it balanced 30/30/30. I'm going to be playing on the right side as well, so it's going to be a hand fitting a glove I think."
He added: "I think it's going to be great. Last year is last year, same for everybody. Just because you had a winning season last year doesn't mean that's going to be the same case for this year. This is a whole new year. On top of that, the free-agent signings like Jordan [Whitehead] and myself and the No. 4 pick, No. 10 pick and two in the 30s. [Joe Douglas] is going to do a good job of bringing more dogs for sure."