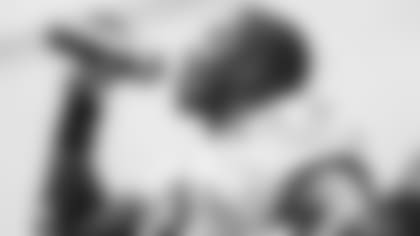 After lining up against the Dolphins' duo of Robert Quinn and Cameron Wake in Week 2 and Browns defensive end Myles Garrett & Co. last Thursday, the Jets offensive line is preparing for yet another talented D-line in the Jaguars. 
"I think it's one of the best defensive fronts in the league, honestly," Jets left tackle Kelvin Beachum. "It's one of the deepest, by far, one of the most productive and one of the most disruptive. Outside of Minnesota and LA, they're right up there at the top. They do a phenomenal job of getting to the quarterback, stopping the run and being disruptive — tackles for losses, pinning offenses back and keeping them in third-and-long and finding a way to eat. It's like a feeding frenzy when they start getting after the quarterback."
Led by Calais Campbell, who finished second in the NFL last season with 14.5 sacks, the Jags defensive line featured four players in 2017 who tallied at least eight sacks.
| Player | No. of Sacks |
| --- | --- |
| Calais Campbell | 14.5 |
| Yannick Ngakoue | 12.0 |
| Dante Fowler | 8.0 |
| Malik Jackson | 8.0 |
In order to have success against "Sacksonville," Beachum said it's about winning on first and second downs.
"It's one of those games where it's an identity game for us," he said. "We have to be able to run the ball. They know that and we know that. Coach Bowles has talked about it and we have to be able to execute. At the end of the day, we have to run the ball. They present some challenges. You're going to have an eight-, nine-man box. They're very disruptive, they do a lot of slanting and run blitzing. We have to find a way to execute, convert blocks on the run and find a way to get our backs in their secondary."
While the Jags rank No. 4 in total defense, they rank 21st in the NFL against the run as they've allowed an average of 115 yards on the ground in three contests. The Green & White were extremely effective against the Jaguars last year as the team rushed for 256 yards in a 23-20 overtime win. However, the Jets have a new look offensive line with a new coach and run-game coordinator in Rick Dennison as well as the addition of center Spencer Long. Conversely, the Jags added Marcell Dareus midway through last season to aid their rush defense.
"Every team is different from year to year, so we don't have time to look at what we did last year," Beachum said. "This is a different offensive line from last year, they've added some pieces to their d-line. We can't look back at last year and hang our hat on that success last year. This is a new team, new players and a new scheme on our end. At the end of the day, we have to execute on this Sunday. We can't worry about what happened in the past."