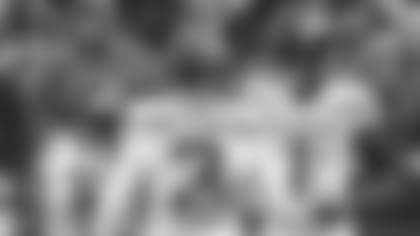 Head coach Robert Saleh, Bart "Can't Wait" Scott and many others are right: The Jets' postseason starts Sunday at MetLife.
Still, that's an awfully long haul of four playoff preliminaries before and if the Jets get into the dance. How to approach the next month? Probably a safari metaphor is best: You can't eat an elephant all at once. You have to eat an elephant one bite at a time.
And the first course is lion.
Here is an overview of the Jets' once-every-World Cup meeting with Detroit, this time with January implications very much alive for both teams:
Zach Wilson Returns to Action
The Jets offense, despite some successful players, plays and games, has been on a roller-coaster lately. The rankings are middle of the pack or lower. Turnovers disappear for a while, then come back to haunt. The offensive line's search for consistency coincides with its search for the same starting five in back-to-back games.
Through it all, Mike White put numbers on the board. With the help of rookie WR Garrett Wilson (who needs 4 catches to break Wayne Chrebet's rookie season mark of 66 in 1995 and 132 receiving yards to be the first Jets rookie to 1,000), rookie free agent RB Bam Knight and others, White frequently moved the ball while also showing his toughness. In White's last 3 games, completed at least 4 passes each to 10 different receivers.
But White has been forced of action due to a rib injury and QB Zach Wilson will return to make his eighth start of the season. He'll get his chances Sunday against a Detroit third-down defense, 31st in the NFL, and its red zone defense is just 30th in preventing RZ TDs.
"I definitely believe in myself," Wilson said. "Of course, I have all the confidence in the world, and I think that's how it should be. But you've got to be able to prove that and like I said, that goes back to just attacking every single day."
Leonine Transformation
After a one-score loss to Miami, the Lions were 1-6 and one beatwriter called them "the worst team in the league." They immediately began their current rise up the charts to 6-7, prompting NFC Defensive Player of the Month for November Aidan Hutchinson to cautiously crow to Peter King: "It's no longer the same old Lions. We've overcome that. Now we're on our way to becoming a really good football team."
Because of the development of DE Hutchinson and others, Detroit presents a sterner Jets stress test than did NFC North brethren Chicago three weeks ago. The Lions' defensive metrics are lower than the Bears, but their offense has become one of the most dangerous in the NFL thanks to QB Jared Goff, who people inside and outside the organization are seeing not as a bridge to the next high draft pick but as the quarterback of the future already here in the present.
Goff's offense starts with the 4.0-yards/carry pounding of Jamaal Williams, then moves downfield with passes to a speedy WR group of Amon-Ra St. Brown, DJ Chark and Josh Reynolds, not to mention Jameson Williams, just returned from last year's ACL. The Jets defense relies a lot on Quinnen Williams, who's battling a calf injury, but as a unit the D has also risen, to No. 3 in the NFL in total yards allowed with a league-leading nine times holding opponents under 300 yards, including the last four in a row. The Jets' cause will be helped by more of the same Sunday, with the aid of a little Carl Lawson-led pass rush and a hands-on secondary effort led by rookie Sauce Gardner.
Home/Road Personality Split
No question Detroit has improved its NFL profile in the course of weeks. But it remains to be demonstrated Sunday whether the offensive and team successes are more a current events thing or a home/away phenomenon.
For instance, the Lions hung 74 points on the board in wins the past two weeks over the Jaguars and Vikings. But both were in the friendly confines of Ford Field, where the Lions are 4-3, average 32.1 points and 400 yards/game and have a plus-4 turnover margin.
On the road, the Mane Men are 2-3, average 18.4 points and 338 yards/game and are minus-1 in TO margin.
One last point on Goff: As crisp and convincing as he's been in taking over HC Dan Campbell's offense, he also suffers from a H/A split. Under the Ford Field roof, he's been unconscious with 20 TD passes to 3 INTs and a 106.9 rating. Away from home, he's got 2 TDs, 4 INTs and an 81.0 rating.
Four Foes and the Jets
Detroit (6-7) is ninth and Seattle (7-6) is eighth in the NFC. Jacksonville (5-8) is 10th, right behind the Jets in ninth, and Miami (8-5) is sixth in the AFC. So all remaining Jets foes are either just in their conference's top seven or just out and trying to get in.
The combined strength of schedule is .500 but all four opponents are varying degrees of "hot." The Lions have won five of six and think they're the cat's meow now. (Cats, Lions. Get it?) The Jaguars had won three of their last five before hosting Dallas on Sunday. The Seahawks and Geno Smith calmed down lately but still have won five of eight. And the Dolphins had won five in a row before dropping two West Coast road games. This week is Game 3 of their roadtrip at Buffalo.
One or two wins the rest of the way likely won't get the Jets into the playoffs. "Must-win" is an NFL curse at this time on the calendar, but what Lou Saban famously said to his Bills in 1974 applies to the Jets over these last four games: "You can get it done, you can get it done. ... What's more, you gotta get it done."
See the top practice images leading up to the Week 15 matchup against the Lions.